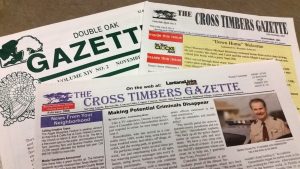 The Cross Timbers Gazette and the Flower Mound Public Library are partnering on a project to preserve local history.
Max Miller, publisher of the Gazette, donated back issues of the newspaper to the Library for the purpose of making them available to the public.
The Library in turn is partnering with the Portal to Texas History to digitize the newspapers and make them available online.
The Portal to Texas History is a gateway to historical materials from or about Texas created and maintained by the University of North Texas Libraries.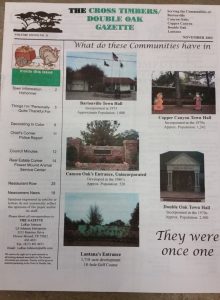 A grant of $1,000 worth of digitizing services was awarded to the Library by UNT to start the project, and additional funding will be sought to complete it.
"We are excited to be able to provide access to this material as newspaper resources for southern Denton County history are difficult to locate and not readily searchable online," said Sue Ridnour, Director of Library Services.
Formerly known as The Double Oak Gazette, the newspaper was originally started as a monthly newsletter in 1979 in Double Oak and run by a handful of volunteers that kept tabs on local people, happenings and town government.
"The Cross Timbers Gazette has been the standard bearer of local news coverage for southern Denton County for decades," said Denton County Commissioner Andy Eads. "I am so proud of the owner and publisher, Max Miller, for his generous donation of the archives to the Town of Flower Mound so that they will made available for research by present and future generations.
"It's often said that newspapers are the rough draft of history. I'm so pleased that these archives will be professionally preserved."