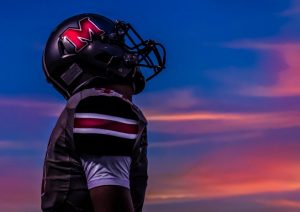 High school football season is upon us and the schools of southern Denton County had four 2015 teams earn postseason berths; and, two went multiple rounds into the playoffs.
The 2016 season should be an interesting one with realignment and some new faces here and there, but the Friday night lights never seem to fade in the great state of Texas and our local teams certainly want their piece of the pie.
The Argyle Eagles head into the regular season as the top-ranked 4A team in the state in a coaches' preseason poll; having just missed a state championship in 2015.
Argyle returns first team all-state defensive back Gage Campbell, along with last season's District Offensive MVP Dane Ledford at quarterback.
A strong offensive line, led by Jack Williams, Jaxon Frazier and Caelan Keenan will lead the way up front, while linebacker Casey Harper in addition to Campbell will anchor the defense.
It will not be an easy schedule for the Eagles, who square off with six top 10 opponents during the regular season, but Argyle always seems to find a way to put it all together when it counts.
Look for Decatur and Sanger to be Argyle's two most difficult district opponents this season.
Down the road at Liberty Christian, Coach Barton Hundley is feeling optimistic about his team's chances in 2016.
"Things seem to be shaping up very well for the upcoming season," Hundley said. "We, as a staff, are very excited about the attitude and effort each one our boys brought to spring ball and have continued through summer conditioning.  They work hard and have a good time playing together.  We feel really good for where we are right now."
Liberty Christian finished 6-4 for the regular season and lost in the bi-district round of the playoffs to Nolan Catholic in 2015.
The Warriors return all-state linebacker Caleb Bridges and all-state receiver Jonathon Copeland from last year's team.
Look for the two of them, along with DB's Kason Howell and Sterling Deary, plus DL Cameron Keller, along with running back Cole Hawkins, to lead the way for LCS this season.
Liberty's non-district schedule includes a trip to Celina and a game with Gilmer. Also, the Warriors face defending state champ Plano Prestonwood in district.
"Our goal for this season is the same as it has been in the past," Hundley said. "We are trying to be the best football team we can possibly be. Our goal each day is to try to get at least one percent better than we were the day before.  We want to get as good as we can doing our stuff."
In Flower Mound at Marcus High School, the Marauders finished as district 6-6A runner-ups in 2015, going 9-1 in the regular season and reaching the area round of the playoffs.
Coach Gerry Stanford said he believes his team is capable of repeating the success it enjoyed last season and said he is looking forward to getting things underway.
"Our goals are to establish who our leaders are and what style team we are going to be," Stanford said. "We need to make sure we have the attitude and mindset that we need going into a very tough schedule."
The Marauders return last year's Special Teams Player of the Year, John Mayers, along with offensive lineman AJ Wozniak and Luke McBride to lead the way up front.
Defensively, cornerback Matt Hankins will anchor the unit with the help of defensive tackle BJ Copeland.
Stanford said his players need to do one thing in particular for Marcus to make another run at a playoff spot.
"I think the biggest thing is these kids making up their mind what they want out of this season," he said. "Usually when you see success, it's because you have a group of people who have talent and want to be successful."
Across town at Flower Mound High School, first-year coach Brian Basil is looking to start a new tradition for the Jaguars, following a 1-9 showing in 2015.
"We are building a culture of toughness and discipline that is part of the formula for any successful football program," Basil said. "We expect to put a team on the field that will compete for a playoff position in District 5-6A."
The Jags will return last year's Defensive Newcomer of the Year, Connor Lee at linebacker and running back Ifeanyichukwu Uzowihe this season. Basil said he is feeling good about the way things are shaping up.
"I believe we are building a solid foundation," Basil said. "We had an outstanding spring and have had 100-percent buy-in from our players.  They are committed to working hard and to turning the program around."
In Denton, the Guyer Wildcats are coming off of another strong season in 2015, finishing 9-4 overall and reaching the state quarterfinals.
Coach John Walsh said that 2015 had its ups and downs; but, overall, he was happy with how things turned out.
"Last year was a roller coaster of a season, but I was really pleased how we finished," Walsh said. "Guyer football's main goal is to be playing our best ball by the week before Thanksgiving. Last year we were hot in late November. Winning the state title is our ultimate goal year in and year out, but the message to our players is 'master today and tomorrow we have a chance.'"
The Wildcats return the district's Offensive MVP in quarterback Shawn Robinson, the Offensive Newcomer of the Year in Noah Cain and first team all-district selection Myron Mason at running back.
Guyer returns a strong secondary, as well, featuring all-district selections Dio Williams and Safety Bryce Jackson, along with linebacker and first team defensive selection, Thabo Mwaniki.
To have another strong season in 2016, Walsh said his team will need to: "simply take care of each day as if it's the most important day."
It's high school football time in Texas, so fire-up those Friday night lights.