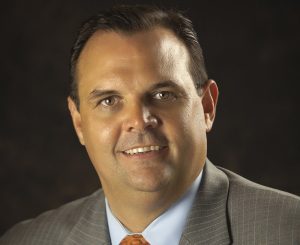 Dear Denton ISD Community,
Welcome to the new school year and the start of another great year for our 27,528 students.
I know I'm just as excited as each of you for this year because I could see it in your eyes, voices and actions on the first day of school. I had the opportunity to visit many of your campuses on the first day and all I can say is "Wow!" – your energy is infectious.
Our teachers were both anxious and excited to start the new school year, and those emotions turned to joy once students began streaming into our buildings. There was no way to hide that amount of energy and I'm thrilled that many of you shared it with your students and our families.
We opened two new campuses this year and, if the expressions of joy I saw on the faces of the families and students at each of these schools is any indication, we're in for a fabulous year. Yes, there was excitement surrounding the opening of Braswell High School and Bell Elementary on that first day… But there was also excitement at Denton High School, Crownover Middle School, Stephens Elementary and Adkins Elementary in Lantana.
Every student – from the wide-eyed 4-year-old joining a Pre-K classroom for the first time to the seniors attending school on their last first day – is expecting to have a great year filled with triumphs and accomplishments. I am confident they will meet or exceed these expectations because our staff has professionally prepared themselves to help them get there and, more importantly, wants each of them to succeed.
We are a growing district – second-fastest growing in the Dallas-Fort Worth area – and also a district that maintains its small-town feel. I often hear from community members, local Realtors and colleagues from other districts about how "the Denton ISD vibe" carries on and excites people no matter if you're in the Denton city limits, Lantana or Little Elm.
We've increased by more than 12,000 students over the past decade, yet because our staff and families have made a commitment to be engaged in our students' learning from Day One, we maintain the atmosphere of a district less than half of our size. That allows our families to fell connected and valued and, with that being said, I know I can say that each of our students are in a place where they will be nurtured and driven to succeed.
As a former educator and parent of a student in this district, I am proud to lead Denton ISD and make this community my home. Yes, we will continue to grow but that only means that our friends and neighbors that continue to come here will join us in being proud to call Denton ISD home too.
I hope each and every one of you – parent, student, teacher or support staff – have a fabulous school year.
Dr. Jamie Wilson, Superintendent 
Denton Independent School District