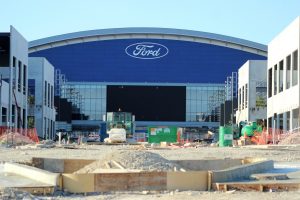 For some years now, the Lewisville Independent School District has rented the University of North Texas Coliseum, or "Super Pit" in Denton for graduation ceremonies for the district's five high schools.
But that could soon change if a deal goes through with the Dallas Cowboys organization.
At an LISD board meeting held Monday night, Aug. 8, an item on the consent agenda would have approved the district moving its graduations to Frisco.  A deal worth $90,000 a year would put all of LISD's graduation ceremonies at "The Star," a development currently nearing completion in Frisco near the Dallas North Tollway and Warren Parkway.
Read more from the Lewisville Texan Journal.