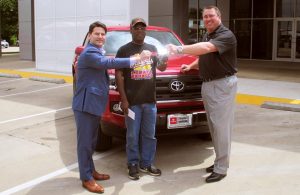 Two Denton County auto dealerships hold the keys to a successful fundraiser.
Each year Honda and Toyota of Denton partner with local schools and nonprofits to help the community fundraising efforts.
Schools or nonprofit organizations can use this opportunity to raise funds for specific projects by selling raffle tickets. 100 percent of the money raised goes to the school. The tickets are sold for $2 each and the school or organization decides where the funds are allocated.
"We first started doing this five years ago and it got people excited about fundraising for the band. The idea that they could possibly win a car and all of the money goes to the band is exciting," said Dave Anderson of the Marcus High School Band Boosters.
"It's a good idea and we've been lucky to sell a lot a tickets. We always have finalists and it's great that a local company is supporting us."
Honda of Denton and Toyota of Denton will host the 2017 Community Support Raffle at 10 a.m. Saturday, May 13, 2017 at Honda of Denton, 4050 S. I-35E, Denton, TX 76210.
Last year the raffle raised over $200,000 for all of the participating organizations. This year the goal is to raise $300,000. Since 2006 the Community Support Raffle has raised a total of $1.5 million dollars for the community.
One vehicle is given away for the program each year. The winner of the raffle will have their choice of a brand new car or truck from Honda of Denton or Toyota of Denton. They can choose a brand new Honda, Toyota or Scion vehicle with an MSRP of $30,000 or less.
The dealership pays the tax, title and license. The winner does not need to be present to win, but must be over the age of 18.
To participate in the 2017 Community Support Program or for details, contact Amalia Ballard at 940-535-7707 or email [email protected]