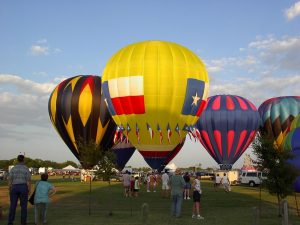 UPDATE: The Highland Village Lions Club Balloon Festival has been cancelled due to inclement weather. All weekend festivities are cancelled.
—————–
Just like it has for nearly three decades, Highland Village will be the place to be for some last-minute fun before the start of another school year.
The 29th annual Highland Village Balloon Festival presented by the Highland Village Lions Club will take place this Friday through Sunday, Aug. 19 to 21 at Unity Park, adjacent to McAuliffe Elementary School and Briarhill Middle School. Festivities will run from 5 to 10 p.m. on Aug. 19, 6 a.m. to 10 p.m. on Aug. 20 and 6 a.m. to noon on Aug. 21.
Naturally, the main attractions will be the 21 balloons that will take off and land near each other both the mornings of Aug. 20 and 21 and the evenings of Aug. 19 and 20, weather permitting. Other events will include a classic car show, wiener dog race, kids zone, petting zoo, live music, 5K and 1K runs, about one dozen food vendors, arts and crafts and raffles that will feature $7,000 in donated gifts from area merchants.
At night, the balloons will be all lit up on the ground, a sight nobody should miss. There also will be tethered balloon rides available.
The weekend serves as the Highland Village Lions Club's primary fundraiser to help provide free vision and hearing screenings for area school-aged children. Previous balloon festivals have helped the club purchase three Welch Allyn Spot VS100 vision detection machines that cost $7,000 each. Hearing screenings use the more traditional audiometers to detect hearing impairments.
Both screenings for all ages will be available throughout the run of the festival.
Cindy Napps, the group's festival site manager, expects crowds similar to the past when between 10,000 and 15,000 have attended.
Though there's no admission charge to the overall event, organizers suggest attendees make a $5 donation. There will be a separate charge for the children's activities.
A special preview pre-glow event will take place Aug. 9 at 6:30 p.m. behind Fresco's. Highland Village resident and noted balloonmeister Pat Cannon will light his balloon and raffle tickets will be available.
"It will be a chance to preview how big these balloons actually are," said Diane Ashmore, director of vision and hearing programs for the Highland Village Lions Club.
For the complete schedule and other information, visit: www.lionsballoonfest.com.
Safety Stressed
Though 16 people were killed in a July 30 balloon crash in the Central Texas town of Lockhart, the Highland Village Balloon Festival anticipates no changes to its protocols.
That's because Cannon, a veteran balloonist who oversees the balloon portion of the festivities, already conducts stringent briefings before any balloons leave the ground.
"We're not going to do anything special. We're going to do what we've always done," he said. "It always plays into a set of rules and I'm really strict about those rules.
"When I give them permission to fly, we always have the briefings on things like the direction we're going to fly and the weather. Plus at the site in Highland Village, we have a set of pretty big hummers (300,000 volt power lines) right to the north of the field. If the wind is going directly south to directly north we would modify what we do. They are a little ways away. It's not an immediate obstacle but it is something of consideration."
Witnesses to the Lockhart crash reported seeing the balloon strike high-voltage power lines and catch fire. Officials with the National Transportation Safety Board will conduct a complete investigation that Cannon said could take up to a year to finish. The focus likely will be on why that balloon hit the power line.
"With all the balloon flights in the country every year, contact with high tension lines is not a very common occurrence but they do happen on occasion," Cannon said. "We brief our pilots on these things and when we brief them we ask them for their caution in looking for wires and tell them when you have a passenger on that balloon, part of your pre-takeoff briefing should be looking around. If they see an object in the way and don't think I see it, mention it to me."