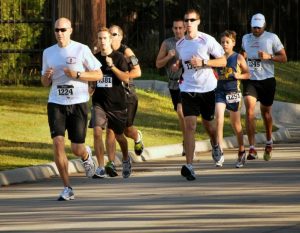 The 7th Annual Run Lantana 5K, 10K & Walk will benefit a local therapy center and animal rescue organization.
Argyle-based Ranch Hand Rescue has been chosen to receive proceeds from the event.
Last year, the race raised more than $8,800 for SpiritHorse Therapeutic Riding Center in Corinth and organizers say they hope to raise more this year.
This is the first year that a 10K, or 6.2 mile, race will be offered.
"Some people like to run those longer distances and what we wanted to do is make sure that we accommodate those individuals," said Mark Norton, Lantana Community Association manager. "The 10K will attract that endurance runner who focuses on the longer races."
Norton said that those with all experience levels are welcome to participate, and that the event has become very popular for those that run on a regular basis.
"About four years ago, we started awarding prize money and we have attracted some very serious runners to our race. We have some of the fastest finishes that you'll see in North Texas."
Lantana residents are asked to help make the event successful.
"Volunteers for race day are always needed," said Norton. "We've had a great history of our race being accident free and it's due to great volunteers helping out and if we can get more volunteers as the event grows that would be great."
Norton suggests scout troops or teenagers needing service time or volunteer hours for school take advantage of this opportunity to serve.
"It is an excellent opportunity for young people that need some volunteer time or those that don't run but want to get out and get involved in the community."
This year's race is scheduled for Saturday, September 17, at Blanton Elementary School. Register here.
To find out how you can volunteer or sponsor the run, call the Association office at 940-728-1660.