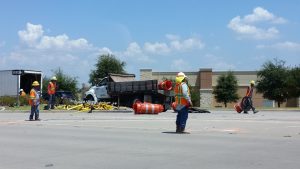 The Texas Department of Transportation is in the process of permanently fixing a dangerous intersection.
TxDOT began construction Wednesday on concrete turn lanes at FM 2499 and Barton Creek, just north of FM 407, in Highland Village.
The project will make permanent the traffic flow currently in place at the entrance to The Shops at Highland Village and the Marketplace of Highland Village shopping centers.
The city installed traffic pylons in September 2014, prohibiting cross traffic at the intersection as well as left turns out of the shopping centers after numerous accidents and close-calls occurred.
Between 2011 and 2014, Highland Village authorities had responded to 221 calls for service and 16 vehicle accidents at the intersection, including nine serious T-bone crashes.
Since the pylons were installed, there have been no accidents reported at the intersection.
The council went to TxDOT with their safety concerns and state transportation officials agreed to make the restrictions permanent by building concrete dividers in the median.
Motorists can expect lane closures on FM 2499 as the contractor completes the work. The project should be complete by Wednesday, August 17.