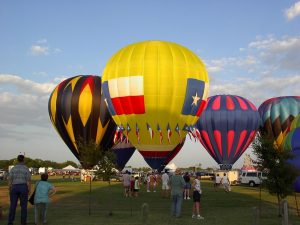 Though 16 people were killed in a July 30 balloon crash in the Central Texas town of Lockhart, the 29th annual Highland Village Balloon Festival scheduled for Aug. 19-21 anticipates no changes to its protocols.
That's because Pat Cannon, the Highland Village resident and veteran balloonist who oversees the balloon portion of the festivities, already conducts stringent briefings before any balloons leave the ground.
"We're not going to do anything special. We're going to do what we've always done," he said. "It always plays into a set of rules and I'm really strict about those rules.
"When I give them permission to fly we always have the briefings on things like the direction we're going to fly and the weather. Plus at the site in Highland Village, we have a set of pretty big hummers (300,000 volt power lines) right to the north of the field. If the wind is going directly south to directly north we would modify what we do. They are a little ways away. It's not an immediate obstacle but it is something of consideration."
Witnesses to the Lockhart crash reported seeing the balloon strike high-voltage power lines and catch fire. Officials with the National Transportation Safety Board will conduct a complete investigation that Cannon said could take up to a year to finish. The focus likely will be on why that balloon hit the power line.
"With all the balloon flights in the country every year, contact with high tension lines is not a very common occurrence but they do happen on occasion," Cannon said. "We brief our pilots on these things and when we brief them we ask them for their caution in looking for wires and tell them when you have a passenger on that balloon, part of your pre-takeoff briefing should be looking around. If they see an object in the way and don't think I see it, mention it to me."