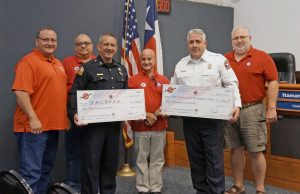 Flower Mound Police Chief Andy Kancel rose at the beginning of Monday's Town Council meeting to thank the Flower Mound community for all the support the department and its officers have received in the wake of the tragedy in Dallas with the killing of five law enforcement officers.
"I'm wearing my vest, but I've put on a couple of extra pounds from all the wonderful baked goods and food that has been coming into the department every day," said Kancel. "The phone calls, letters, texts, emails and all the support; I haven't been able to get back to all of them."
He went on to say the police officers have been assisting the Dallas PD covering shifts during their funerals and also have officers at the Republican National Convention in Cleveland.
"Keep us in your prayers, keep us in your hearts; trust me, you're in our hearts and our prayers as well," said Kancel. "We love you all."
Following the Chief's thank you, Claudio Forest, representing the Summit Club of Flower Mound, took the podium and thanked both the Flower Mound Police and Fire Departments for their service to the community.
Forest explained that club members had set-up a booth at the Farmer's Market to sell their "Back the Badge" T-shirts, as well as accept donations from residents. He asked both Kancel and Fire Department Chief Eric Greaser to come forward and receive checks for $1,000 each to benefit their respective associations.