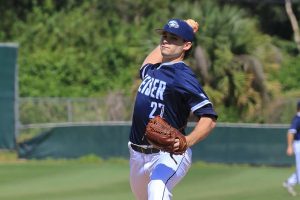 Although things may not always turn out as—or when– planned, often times they might still work out in the end.
Steven Bruce understands this as well as anybody.
The former Flower Mound High School Jaguar pitcher was highly-touted coming out of high school in 2010, was headed to the University of Oklahoma on an athletic scholarship and, it appeared, that his baseball career was on the right track.
"I really learned a lot about the game of baseball in my first two years [at OU], but was not able to take full advantage of it, because I did not play as much as I wish I could," said Bruce.
As a relief pitcher for the Sooners, he struggled in the classroom, suffered a minor strain to his UCL his sophomore year; and, that summer, he lost his scholarship.
The Flower Mound alum left Oklahoma after two years and committed to the University of Texas at Arlington. However, he quickly de-committed, because his course load at school proved to be too much to handle and also play the sport he has loved since he was a young boy.
"I sat out a whole year with no intention of playing baseball again," Bruce said.
But then something interesting happened—something that would change his outlook and remind him of why he started playing baseball in the first place.
"I started coaching a young, 10-year select team in Dallas, which made me want to return to the game," Bruce said. "That was my turning point. Seeing those kids work so hard made me want to finish what I already started, but finish the right way."
Bruce tried out for the Northwood University baseball program in Cedar Hill and made the team, where he met coach Jeremy Kennedy, a man that would have a profound influence on Bruce's life.
"He was a great prospect coming out of high school," Kennedy said. "After Oklahoma, he started going to the junior college, where I picked him up. He was ready to start that season and then was declared ineligible for a year."
Due to an academic technicality, Bruce was not allowed to play for one full academic year after feeling certain that his baseball career was headed in the right direction.
"I told coach Kennedy, I'm here to graduate and win a championship," Bruce said. "I want to get a degree and enjoy baseball as long as I can."
Bruce's plans would be deferred for a year. That was when Kennedy said he really understood the level of character of the former Flower Mound pitcher.
"What impressed me the most was the way he handled it," Kennedy said. "Most students would have crumbled after that kind of news, but he didn't. He was determined to get into shape and be ready for the next season. That's when I realized that this was not a kid I was dealing with—he's a man; and, it is so good to have someone like that on your team."
Bruce would face yet another obstacle, when Northwood University cut its athletics program and Kennedy accepted the head coaching position at Keiser University in Florida.
"I went with Coach Kennedy to West Palm Beach and played two seasons," Bruce said. "The first season I had another injury and was held out for half the year after I was playing extremely well. I rehabbed all summer long to get healthy, so I could give myself and our team the best chance to win a World Series.
"Last year, I made every start throughout the season and finished my college career undefeated … we did not win a World Series. But, the most important part of this is I went from being a very immature person and player, to a professional player and a much more mature adult."
That is correct; eventually, the plan came together.
After going undefeated in two seasons at Keiser– as well as being selected Conference Pitcher of the Year and an Honorable Mention All-American last season– Bruce received the call he had been hoping for since he first picked up a ball and glove.
"Being signed by the Texas Rangers is a dream come true," Bruce said. "My fiancée, Bayli, and I used to go to the games saying how awesome it would be to play for the Rangers. We never thought it would actually happen. It's an unbelievable feeling."
Bruce is on his way to Surprise, Ariz., for three weeks, where he will be assessed and then sent to one of the farm clubs in the Rangers' system.
"My objective at this point is to work hard every day and keep doing what I've been doing since I started playing baseball again with Coach Kennedy," Bruce said. "Be a professional about my business and work hard every day. God will take me where I need to go from there. Either way, I have grown as a person and I am ready for whatever obstacles are thrown my way."
Bruce credits his high school, select club and especially his college career for preparing him to play professional baseball. He said that if he could give any advice to young people with dreams of playing baseball professionally one day, it would be this.
"I would tell them to respect others and be professional on the field," Bruce said. "Yes, young players need to train often to become great ball players, but without a professional attitude, it would be extremely hard. The last thing is to never give up.
"Play baseball as long as you can. At some point, someone will tell me to hang up my cleats. Until then, I'm going to play every day as if it were my last game."