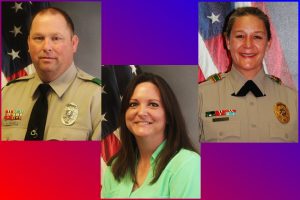 With all the bad news lately, it's nice to hear some good.
Three staff members of the Denton County Sheriff's office took the opportunity to be part of "the good;" as individuals and just because it's the right thing to do.
On Thursday morning, July 14, Deputy Brian Nelson was dispatched to an address where an elderly woman was seeking help to find an air conditioner for her residence. Her current A/C unit had quit working and her home had become unbearably hot.
Nelson spent several hours working to find a resource to donate an air conditioner or provide a service to fix the current system.
Sgt. Cari Coker heard the call on the radio and also immediately began checking her resources to locate an air conditioner.
Through a serendipitous e-mail error, Records Manager Toni Hodges was also brought into the mix. She graciously offered a personal window unit she was no longer using.
On Friday– the hottest day of the year so far– Coker retrieved the unit from Hodges and met Nelson at the elderly woman's residence to install the window unit.
Unfortunately, the woman wasn't at home when Coker and Nelson arrived.
Nelson called the woman who explained she was in the process of returning a broken A/C unit and was very thankful for his efforts to help her.
Coker and Nelson left the A/C unit on her front porch, so it would be there when she returned home and her son could install it to begin cooling her home.
"I know this is not something Cari, Brian or Toni would ever talk about, as they simply view this as 'the right thing to do,'" said Capt. Kevin Clark. "However, I believe this compassionate act speaks volumes about their character and the heart these individuals have, along with their enduring desire to serve those in our community. I commend each of them for their efforts going beyond what is expected to make a difference in one person's life."