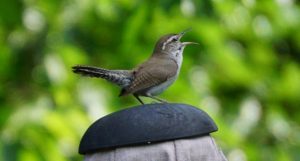 by Janet Laminack, County Extension Agent-Horticulture
If you are a lifelong learner, interested in the natural world and want to give back to your community through volunteer service, I would encourage you to check out the Texas Master Naturalists program.
Come learn more about this program at the 2016 Master Naturalist Trainee Class Open House this Thursday, July 21, from 10 a.m. to 1 p.m. at the Denton County Elections Building located at 701 Kimberly Drive, Denton 76208.
Open House is an opportunity to talk to current Master Naturalists and ask questions. Come for lunch and learn more about this volunteer program and view exhibits displaying many of the ongoing Elm Fork Chapter community projects.
The Elm Fork chapter is the local chapter which serves Denton, Cooke and Wise counties. They are currently recruiting for their newest training class which begins August 30th and goes through November 15th, every Tuesday from 9 a.m. to 3 p.m.
This course is an intensive 60-hour training on the region's natural features and the impact that people have on nature. It features presentations by biologists, geologists, naturalists, and others from local, state, and federal agencies and universities.
To become a certified Master Naturalist, you must complete a minimum of 40 hours of volunteer service and 8 hours of advanced training during the first 12 months following the completion of the course (to be completed before your course's graduation anniversary date).  Applications and tuition are due by August 18. The tuition fee is $150.
The Texas Master Naturalists program was created to develop a corps of well-informed volunteers to provide education, outreach, and service dedicated to the beneficial management of natural resources and natural areas within their communities. Many communities and organizations rely on such citizen volunteers for implementing youth education programs; for operating parks, nature centers, and natural areas; and for providing leadership in local natural resource conservation efforts. In fact, a short supply of dedicated and well-informed volunteers is often cited as a limiting factor for community-based conservation efforts.
The Elm Fork Chapter works at Lake Lewisville Environmental Learning Area (LLELA), Lake Ray Roberts State Park, Bob Jones Nature Center, Clear Creek Natural Heritage Center,  Trophy Club Nature Trails, just to name a few locations. Projects include bluebird box monitoring, trail building, bird walks and nature hikes, water quality monitoring and educational presentations to youth and adults, and many more activities. Come learn more at Open House!
The application, course curriculum and more information about the Master Naturalists program can be found at https://txmn.org/elmfork/ or by calling 940.349.2883. We will seek to provide reasonable accommodation for all persons with disabilities for this program. Please contact the Denton County Extension office as soon as possible to advise us of the auxiliary aid or service that will be required.
Texas A&M AgriLife Extension provides equal opportunities in its programs and employment to all persons, regardless of race, color, sex, religion, national origin, disability, age, genetic information, veteran status, sexual orientation, or gender identity.