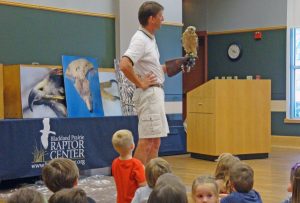 The "Raptors of Texas" is a family-friendly program presented by the Blackland Prairie Rapton Center. It will showcase hawks, owls and falcons calling Flower Mound home.
The Flower Mound Public Library will host a close-up view of these magnificent aerial, keen-eyed hunters on Wednesday, July 27, at 3 p.m. and 6 p.m.
Tickets are free, but are required for admission. They will be issued on a first-come, first-served basis beginning at 9 a.m. on show day, July 27.
For more information, either visit the Library at 3030 Broadmoor Ln., or call 972-874-6165.