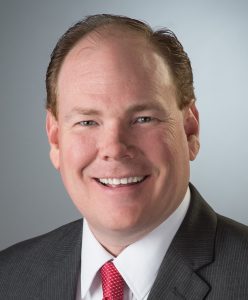 It's hard to believe we're already into July. With a break in the rains our crews are back out and working hard to complete our local road projects. Better roads means less time commuting and more time with family and friends, which make it a priority for the county and our road crews.
If you are on our newsletter list you already know this, but we have started a regular "Coffee with the Commissioner" at various cities and towns in our precinct. So far we've been to Flower Mound, Lewisville and Argyle, and we're coming soon to a community near you.
We would love to have you connected to the county by subscribing to our newsletter. Just use this link and enter your email and you'll be up-to-date on everything that's going on in Precinct 4: http://dentoncounty.com/Departments/Commissioners/Commissioner-Pct4/Subscribe.aspx
Denton County History Returns Home
We are pleased to announce the return of several thousand artifacts, documents, photographs and books to Denton County that were previously held by the Collin County Historical Museum in McKinney, Texas! On Tuesday, June 14, 2016 the Denton County Commissioners Court formally accepted the gift made by the Board of Trustees of the Collin County Historical Society and Museum.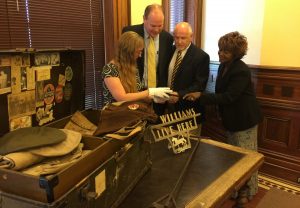 The collection consists of over 4,000 collections donated by families from all over the county. One notable collection is the Bruce Davis, Loveless Studio Photograph Collection that consists of over 30 thousand images. The Jagoe Collection is another very important collection that includes information on land transactions in the county.
The Denton County history collection of over 10,000 collections was the subject of a lawsuit in 1998 when then Denton County Probate Judge Don Windle divided the collection between Denton County and the now defunct Denton County Historical Museum, Inc. went out of business in 2009 and gave their collection to the Collin County Historical Society and Museum that was then called the North Texas History Center.
"We are so pleased to have the collection back in Denton County," said Denton County Judge Mary Horn.
The transfer of the items from Collin County to Denton County is complete and is currently being cataloged and properly preserved, according to Peggy Riddle, Director of the Denton County Office of History and Culture.  The OHC will maintain the entire collection for the county. "We are so grateful to Judge Horn, Ray Roberts and Ted Wright, Vice-Chairman of the Collin County Historical Museum, for making this happen.  After 17 years, the collections will be reunited for future generations to appreciate the rich heritage of Denton County."
Did You Know?
As growth and progress in Denton County continues, the county's Engineering Department strives to meet and maintain the needs of our residents, property owners, contractors and constituents. From reviewing plans for a new subdivision to issuing culvert and utility permits, the department is committed to helping the residents.
The Engineering Department works closely with the Texas Department of Transportation on the county's bridges, replacing those that have become unsafe and restoring and relocating the historic bridges of Denton County.
If you have a question about a road project in our Denton County, the Engineering Department will be glad to help. Just give them a call for an update on the progress.
Mary and Jim Horn Government Center
1505 E. McKinney Street, Suite 175
Denton, Texas 76209-4525
(940) 349-3250
Link to Road and Bridge Closures
The county website has a "County Road Closures" page.  Although this service has been around for a while, Application Development recently added two great new features:
Residents are now able to subscribe to road closures notification emails to quickly find out about roads that are added, updated, or deleted from the closure list.
The road closures are now displayed on a map to make it easier to identify and visualize the location of the road closures.
Check out the link to the County Road Closures page at http://dentoncounty.com/Pages/Road-Closures.aspx.
This should make your commute easier, especially if you travel roads that flood frequently with heavy rains.
 New County Website for Zika Virus Information
Zika virus spreads to people primarily through the bite of an infected Aedes species mosquito (Ae. aegypti and Ae. albopictus). The Zika virus can also be passed from a pregnant woman to her fetus.
The most common symptoms of Zika are fever, rash, joint pain, and conjunctivitis (red eyes). The illness is usually mild with symptoms lasting for several days to a week after being bitten by an infected mosquito.
People usually don't get sick enough to go to the hospital, and they very rarely die of Zika. For this reason, many people might not realize they have been infected. However, Zika virus infection during pregnancy can cause a serious birth defect called microcephaly, as well as other severe fetal brain defects. Once a person has been infected, he or she is likely to be protected from future infections.
In order to ensure the residents of Denton County are informed and have access to the most current data, the Denton County Health Department has launched a new website dedicated to Zika and everything you need to know regarding its risks and concerns.
Log on anytime for up-to-the-minute information:
http://dentoncounty.com/Departments/Health-Services/Denton-County-Public-Health/Health-Emergency-Alert-Response-Team/Zika.aspx
35 Express Update
The reconstruction of I-35E is part of the 35Express Project, an expansion of I-35E from US 380 in Denton to I-635 in Dallas, and is scheduled to be substantially complete in mid-2017.
As always, check out the project website at www.35express.org for more detailed information and detour routes, as well as regular updates on additional lane and road closures and upcoming construction. Be sure and sign up for the alerts to receive up-to-the-minute information to ease your commute. In addition, access to traffic cameras along I-35E is available.
If you have any questions or comments, please let me hear from you. My email is [email protected]dentoncounty.com and my office number is 940-349-2801.