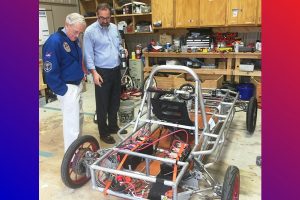 Liberty Christian's solar car races to Minnesota July 17 in the annual Solar Car Challenge, a competition of vehicles powered by solar energy designed and built by high school students.
"This year's solar car trip is another significant milestone in our program," said sponsor Brent Dragoo.
His team of students raced in the World Solar Car Challenge in Australia last October as one of only two high school teams in the world to compete.
"Returning to our normal high school solar car challenge is still quite an undertaking," he said. "We have rebuilt our car from an electrical standpoint and improved the entire system."
The team lowered the car's weight by 140 pounds just by being able to purchase lithium ion batteries instead of lead acid it used in previous years.
"We should be one of the lightest cars in the high school race this summer," Dr. Dragoo said.
Race registration begins July 14 at Texas Motor Speedway with scrutineering, where judges go over every car with a fine tooth comb. Cars must pass scrutineering to race.
The team aims to drive around 30 to 40 mph, with each day of the race averaging 130 miles.
This year's race will run rally style, meaning every team will start each morning and end every evening together. Teams will be given credit for how many "solar" miles they drove that day. The team with the most miles in the shortest amount of time wins the overall race.
"In our race to Los Angeles three years ago, there was only one team that drove all of the available miles," he said. "Our goal this year is to place in the top three overall."
This summer, the Argyle private school is celebrating its 10th year in the Solar Car Challenge and hopeful about the changes students have made to the car, which also includes the design of a canopy frame to support the solar cells and an upgrade to ceramic bearings that will improve the car's rolling resistance.
Student and team manager Clayton Odom said, "We are optimistic these changes will help maximize the efficiency of our hub motor."
Clayton and four other members are the senior veterans of the team, and the other half of the team is underclassmen.
Dr. Dragoo said, "This great mix of students will allow experienced team members to train up the next generation of our team."
The team begins the race from Northwest High School in Justin and heads to Ardmore, Okla., in the southern part of the state. On the second day, teams will race to the northern side of the state to Ponca City, Okla. Teams will travel to Manhattan, Kan., the third day and will have a rest day the fourth day, which will be hosted by Kansas State University. Day five will take teams to Fremont, Neb., and day six to Worthington, Minn. On July 23, the finish line on day seven will be in Eagen, Minn., and St. Thomas High School will be the host, a school that has a long tradition of building solar cars and experimental vehicles.
Liberty's solar car will travel in a caravan of four cars that includes a lead car, the solar car, a truck pulling the team's trailer, and a nine-passenger Sprinter van.
"Our team we have put together this year should be very adept at troubleshooting and handling any problem that might arise," Dr. Dragoo said.
Team members consist of Ryan Allison; Brayden Dragoo; Gabe Graves; Maximo Gutierrez; Henry Harshfield, driver; Austin Hunt; Tyler Hunt, driver; George Marye; Clayton Odom, driver; Connor Robbins; Luke Rosprim; and Kevin Wissink, driver.
Faculty advisors on the trip in addition to Dr. Dragoo include robotics instructor Evan Hunt, Middle School Department Chair Sue Gallo, and Upper School Department Chair Heather Lytle.
"We are excited about the hands-on engineering lessons we will learn during the race," said Dr. Dragoo. "Every time we take the car to compete, whether locally or globally, it always proves to be a trip of a lifetime."