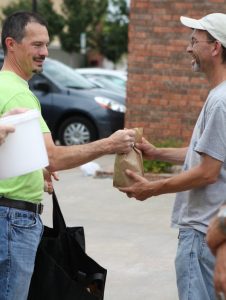 After serving another 346 meals to the homeless and needy during June, Flower Mound-based Filling The Void Dallas surpassed 10,000 total meals served since starting in 2012.
The organization's activity has grown every year, beginning with 400 meals its first year, followed by 1,402 in 2013, 2,719 in 2014 and 3,773 in 2015.
This year the group is on pace to hit nearly 4,000 meals in Dallas after distributing 1,890 sack lunches so far in 2016.
Volunteer leaders Gary Nilson, Tony Curtis, Jason and Stephanie Melott and Alysia Jordan are shepherding the ministry's steady climb with a passion for serving others.
Many of the volunteers come from BridgeWay Church in Copper Canyon and Hope Fellowship which has campuses in McKinney and Frisco.
"We're always hoping to attract more people to serve," says Nilson. "It's a labor of love that makes a huge difference to those we serve."
One of the things that makes Filling The Void unique is that it has no paid employees. Everyone  is a volunteer, from its board of directors to its grocery shoppers and sack lunch assemblers.
"Yeah, we keep our overhead pretty low," Nilson said. "It allows us to put 100 percent of our financial support toward what goes in the bag, including Chick-fil-A sandwiches.
"We see our purpose as a personal calling. When Jesus saw the crowds, he was moved with compassion. We want to do the same," Nilson added.
More information is available at www.fillingthevoid.com. Checks can be made to Filling The Void Dallas and mailed to 5209 Remington Park Drive in Flower Mound, 75028.
Filling The Void Dallas is an offshoot of Filling The Void Inc. that was founded in Oklahoma. The overall ministry across various cities has served more than 100,000 meals since 2003.