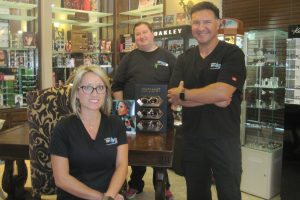 While there must be hundreds of doctors performing basic eye exams and even selling optical products in the Dallas-Fort Worth Metroplex, you can count on one hand those who provide special services like Dr. Sebastian Mirabal and his staff at Flower Mound's Lakeside Eye Care.
Since 2013, Lakeside Eye Care has been focusing on developing a center to help diagnose and properly treat dry eye. Dry eye is a medical disease that many people suffer from daily and only few get relief. While using over-the-counter remedies like eye drops may work for some, many need more advanced treatments only performed at places like Lakeside Dry Eye Center.
Dr. Mirabal, who has practiced optometry since 2000, decided to take matters into his own hands first by becoming a certified dry eye clinician three years ago, then having his dry eye lab certified and accredited earlier this year.
Dry eye can be caused by many things including clogged glands, microscopic demodex mites, blepharitis, vitamin deficiencies, and tear volume insufficiency. Such problems have been around virtually forever, but through research and advanced technology, they're finally being addressed and treated faster than ever.
"Every patient suffering from dry eye is different," he said. "You could have one component or you could have multiple components. That's why dry eye has been so difficult to diagnose and treat.
"The old treatment was to just take some drops, but for too many it just wasn't enough and that's when people started figuring out 'hey, this is a big problem.' Through the advancement of treatment in dry eye today, I am proud to be able to help many of my patients who have suffered for years with no relief, get the relief they deserve."
Mirabal, a diplomat of the American Board of Optometry, became Optometric glaucoma board certified in 2002, and Medicare-certified for treating disease in 2004.
Dr. Mirabal and his team at Lakeside Dry Eye Center can help treat the various causes of dry eye through a variety of methods. These include everything from oral and topical medications, tear duct plugs, to more advanced treatments like the BlephEx eye lid cleansing tool, and the EyeXpress, to help express clogged glands.
The key is to properly diagnose the problem and its causes with tests like TearLab. TearLab is the first objective and quantitative step for diagnosing dry eye followed by developing a treatment plan designed specifically for each patient based on the test results.
For a free evaluation, call Dr. Sebastian Mirabal at Lakeside Eye Dry Center at 972-874-2407.