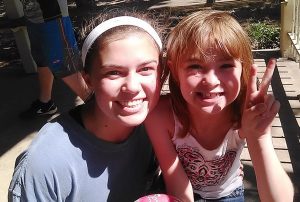 From leading soccer clinics in the Denton area that taught skills like dribbling, passing, and juggling to making cards and bracelets that will go to orphans in the Middle East, Liberty Christian students in 6th, 7th, and 8th grade invested part of a week of their summer to serving and helping children locally and around the world.
In this annual Middle School Summer Mission Retreat, students lived at school for three days and came together in friendship to learn and coach soccer skills and then hold clinics in area mobile home parks in Denton.
Liberty's Director of Technology, Tom Shiflet, leads this retreat with fellow staff members each summer, an idea he presented to the Liberty's Spiritual Life Department more than five years ago.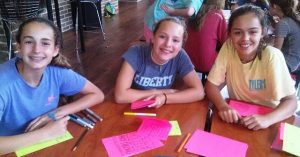 "Of all the many Liberty trips the school takes each year with its students – from places like the Dominican Republic to Uganda – this trip is my favorite," he said.
"We come together to love our community and the world in creative ways each summer on this retreat – and in the process, we also have a lot of fun," he added.
On June 22, students convened at school to set up "camp" – girls in the girls locker room and boys near the boys locker room, and learned from expert soccer trainers – teachers Theresa Greene and Dawn Lobbes – skills children can learn to enhance their soccer game and make friends too.
This year's retreat focused on Scripture in 1 John Chapters 3 and 4, which includes verses like "See what great love the Father has lavished on us, that we should be called children of God!" and "We know and rely on the love God has for us. God is love. Whoever lives in love lives in God, and God in them."
"We enjoyed sharing Christ's love and hope with our community – it is our greatest privilege to love God and others as He first loved us and all of humanity through His Son Jesus Christ," said Shiflet.
Liberty families also provided soccer balls to give to the children who attended the Thursday and Friday morning soccer clinics.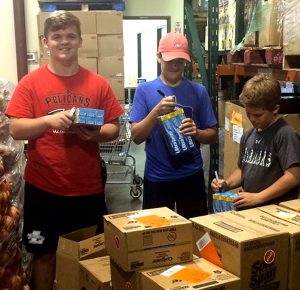 On Thursday afternoon, students helped at Christian Community Action in Lewisville and Flower Mound, sorting donations and organizing its food pantry.
On Friday afternoon, students came back to school to write cards for refugee children in the Middle East and make bracelets for them.
Shiflet, founder of The Great Need, will take the bracelets with him next month when he travels to the Middle East to serve the children there.
"Our students rise to the occasion each year – serving during the day and enjoying worship and play each evening back at Liberty," said Mr. Shiflet.
"It's a time every summer when Middle School students reunite with friends, have fun, and reach out to preschool and elementary-aged children in the community."
The retreat concluded Friday evening, June 24, as parents and siblings joined Middle School students to hear about the life change, friendships, and spiritual growth that happened on the mission retreat.