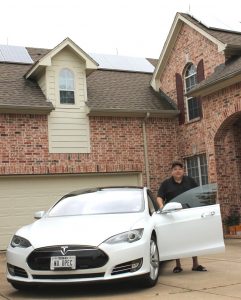 Texas summers are hot. Anyone who's lived in Texas during the summer can verify that statement; it's not a fact to debate.
When the temperature outside is 110-degrees in the shade, the cost to pay for people's comfort inside can soar to budget-breaking amounts of money.
The Squyres family of Flower Mound is doing what it can, not only to lower its energy costs, but also to mitigate its "carbon footprint," by using as much green-energy material and products as possible.
Their dedication to green-energy has not only made them feel positive about the condition of the planet, but it has also paid financial dividends. Their monthly electric bill ranges from zero-dollars to a refund of $130.
The first step they took to contribute to the promotion of green energy was to purchase and install solar panels. Jay Squyres began researching solar power in 2008.
However, a public battle began with the Wellington of Flower Mound Homeowners' Association (HOA) after Squyres requested permission to install solar panels in 2009 and the HOA sued.
Eventually, the HOA dropped that lawsuit. A second lawsuit was filed, but in 2011, the Texas Legislature passed HB 362 that states: "A property owners' association or the association's architectural review committee may not withhold approval for installation of a solar energy device . . ., unless the association or committee, as applicable, determines in writing that placement of the device as proposed by the property owner substantially interferes with the use and enjoyment of land by causing unreasonable discomfort or annoyance to persons of ordinary sensibilities" and was signed into law by Governor Rick Perry.
On Aug. 4, 2014, the Town of Flower Mound removed all restrictions on the installation of solar panels on residents' homes.
The Squyres' home was on the Flower Mound portion of the annual DFW Solar Tour Day on Oct. 4, 2014. [See www.dfwsolartour.org/locations/squyres/index.]
"On the deregulated market, only three companies are pushing solar energy," Squyres noted, "They are Reliant, TXU, and Green Mountain. Other companies are still trying to make a profit on solar energy."
Since Reliant pays consumers the most for the extra energy their solar panels produce, the Squyres chose them as their residential electric provider or REP.
The Squyres receive 7.2¢ for each kilowatt-hour (kWh) they send to the grid. The Squyres family's March 2016 electricity bill from Reliant shows the energy charges, the grid contribution credit and the electric delivery charges. Since the Squyres contributed more electricity to the grid than they used, the electric company actually owed the Squyres about $58.
The Squyres' Transmission Distribution Service Provider or TDSP was Oncor.
Oncor's Solar PV program, called Take A Load Off Texas, paid for a good portion of the cost of the family's solar panels by paying the Squyres $2.46 per solar watt installed the first year, $2 per solar watt installed for the second year and $1.90 per solar watt installed for the third year as a rebate for any overage of electricity their solar panels produced.
To be accepted in the Take a Load Off Texas program, the Squyres had to choose an installer from among 18 Oncor-approved installers.
Beginning in 2010, the Squyres purchased and installed one 10kW-set of solar panels each year for three years in a row.
In 2010 during Phase 1, the Squyres paid $39,266 for their first set of 10kW solar panels; however, the Squyres received a rebate of $24,600 from Take A Load Off Texas and a 30-percent federal tax credit of $12,003.
During Phase 2 in 2011, the 10kW solar panels cost the Squyres $30,000, but the rebate amounted to $20,000 and a federal tax credit of $9,000.
In 2012, the final Phase 3 additional 10kW-set of solar panels cost the Squyres $19,000, but they received a $19,320 rebate from Oncor's Take A Load Off Texas and a tax credit of $5,700.
The bottom line is that over the three phases, they spent $88,266 and recouped $90,623.
An AC-coupled battery was installed during Phase 3 and is used only when the grid is down. The cost of installing solar panels has dropped from $4.50-per-watt in 2010, to $2.80-per-watt now.
Squires said that the least-expensive installer in the DFW area is Dallas-based Good Faith Energy.
He explained that the installation of solar panels is becoming more popular—in 2014, 2,167 DFW locations had solar panels; whereas in 2015, 4,469 had solar as tracked by the number of permits for installation were requested from cities.
The family also drives a car that requires no maintenance, eliminates the need to pay money for fuel, has enviable warranties and offers a top-rated safety rating.
"Our purchase of solar panels pushed us to start getting interested in climatic change and join green groups," said Squyers. "Then we decided to purchase a Tesla."
The cost of his Tesla was $70,000.
"When you purchase a Tesla, you receive a federal tax credit of $7,500 from the federal government and you did get a $2,500 rebate from the state of Texas," he said. "Unfortunately, the Texas rebate has expired and Tesla owners are urging our legislators to reinstall that tax credit. The money in that fund has not been depleted." The Applications for Texas' Alternative Fuel Vehicle (SFV) Rebate Grant program ended on June 26, 2015. [See www.dmv.org/tx-texas/green-driver-state-incentives.php.]
State Rep. Ron Simmons from District 65 that encompasses suburban southeastern Denton County and who sits on the Texas House of Representatives' Transportation Committee, does not at this time favor reinstituting The Alternative Fuel Vehicle Rebate.
"I questioned whether that money could be invested elsewhere in the Texas Emissions Reduction Plan (TERP) with better results," said Simmons. "TERP only applies to certain areas like Dallas and Houston. Long-term, I will look at the advisability of making the rebate available. That decision will be data driven."
Squyers added that Tesla owners need to be aware that the federal tax credit for plug-in vehicles are capped at 200,000 cars per manufacturer.
"Yes, though the initial cost of the vehicle is high, you have to think of it as a mortgage," said Squyers. "I have not paid for any maintenance on the car and the fuel is free.
"Tesla Superchargers are located every 100 miles on the interstate," said Squyers. "I just took a trip to Shreveport. You can drive from the East to the West Coast, because Superchargers have been installed along that route. An entire infrastructure of re-chargers will be completed in three years. You have to remember that when Henry Ford first started selling the Model T, it took 15-years for the gas stations needed to refuel them were built."
Recharging stations are accessible and quick (www.plugshare.com provides online maps showing the locations of local and national chargers).
"A small battery will take you 200-miles, while a large battery will take you 300 miles," said Squyers.
In town, chargers are available at an increasing number of businesses. For instance, CHAdeMOs that provide charges for various car models, including Teslas, Chevy Volts, Nissan Leafs, and all other electric cars, as well as Zero motorcycles, are available at Walgreen's stores; they will recharge the battery for another 30-miles after just 10-minutes.
"Used Teslas are becoming available," said Squyres, "but the most exciting news is that Tesla's Model 3 will be on the market by the end of 2017. The Model 3 carries a much more affordable price tag of $35,000. Nearly 400,000 Americans have already put down $1,000 to reserve one. In comparison, Toyota sold 311,000 Camrys last year. The Model 3 will be America's best-selling car."
Of course, to reinforce green-energy conservation, it would make sense that electric vehicles should offer green as one of the color options.