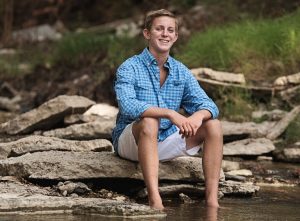 Dalton Weed wore many hats at Liberty Christian School.
A member of the varsity basketball team and an Impact leader, Weed said much of his free time is devoted to mentoring others.
"I am a mentor to three eighth graders," Weed said. "We have an arranged meeting every week and then I also see them outside of school and occasionally text them and see how they are doing."
Weed was also a member of the Spanish Club at Liberty Christian school and served as the Parliamentarian of the National Honor Society.
"It's a small school," Weed said. "I actually would have gone to Flower Mound, which is like 3,600 students. Liberty is much smaller, and I feel like there are a lot more opportunities for me to get involved and do different things. I just want to be a part of the things that are going on there."
Weed recently returned from a trip that he said was a great opportunity to learn some new skills for when he heads to college in the fall.
"I just got back from a wilderness trip, which is kind of like a leadership training," Weed said. "We had about 25 seniors that went as leaders. We stayed in tents and had a bunch of activities we did with the entire eighth grade class."
Weed, who ranked third in his graduating class, said he has always really enjoyed working with young people.
"I have reffed youth basketball at the Cross Timbers YMCA, and I also help out with Buddy Sports at the YMCA, which is for special needs kids who play sports for two hours on Sundays," Weed said.
"I've volunteered and helped coach baseball, soccer and basketball. I just feel like, when I was that age, I would have really enjoyed having somebody that was a couple of years older than me that I could relate to, but also have someone that was kind of guiding me. I feel like that is a good thing to have."
The Flower Mound teen has also been on mission trips to El Salvador, Panama and the Dominican Republic.
"We also have a missions day in the fall and spring, where we will have a one day holiday," Weed said. "We will have a group of people go and do mission work. So I've worked with Mission Arlington, Spirit Horse and Beautiful Feet."
Weed, 18, is headed to Clemson in the fall where he plans to double major in Engineering and Spanish.
Weed's Favorites
Favorite Athlete: Kevin Durant
Favorite Sports Team: Dallas Mavericks
Favorite Subject: Math
Person who most inspires you: Parents
Favorite Food: Burgers
Favorite Movie: The Fast and Furious series
Favorite TV Show: Arrow
Last Book Read: Heart of Darkness
Favorite Musical Group or Performer: Tom Petty