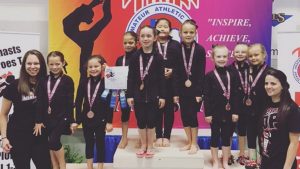 Excite! Gym & Cheer of Highland Village Texas Gymnastics Teams ended the season in style taking home hardware that Home Depot would be jealous of.
The hardware haul started with Excite! Gymnastics warm up at the Win Kids Gymnastic Meet on April 16 & 17 taking home 1st Place XCEL Small Team along with 1st Place Level 1 Large Team, 2nd Place Level 3 Large Team, 3rd Place Level 4 Small Team and 6th Place Level 2 Large Team. This just proved to be a priming of the pump for Excite! Gymnastics and the State Meet.
Excite's! Level 1 & 2 began the State competition on April 30 at Hill College in Hillsboro, TX and put the state on notice that Excite! Gymnastics was going to be a force throughout the three weekend competition.
Excite's! Level 1 set the tone taking first place bringing home the impressive trophy, while Excite's! Level 2 Place 8th out of 22 tough teams.
Excite's! Level 3 was on fire the next weekend May 6-7 at The Rock Gymnastics in Weatherford, placing 8th out of 29 teams. Everyone on the 14 person roster was able to get up onto the podium to receive awards. Four of members of the Excite! team were also invited to the TAAF Awards Banquet to be held June 4th in Midlothian, an honor that entire Excite! Gymnastics family is ecstatic to be a part of.
The final weekend of State, May 14 & 15 was held at Texas Best Gymnastics in McKinney and Excite's Level 4 made the trip worthwhile placing 2nd out of 18 teams, missing 1st place by only .2 of a point.
Excite! coaches Bethany Lee Rice, Caitlin Crane and Mark Ragar we obviously pleased with the performance of all the athletes, but where equally delighted with the level of teamwork and sportsmanship all the athletes and families showed for each other and the other competitors. Showing the entire state of Texas what Excite! Gymnastics represents and what makes the Excite! Ohana special.
Julie Hutchens, the owner of Excite! Gym & Cheer along with all the coaches thanks all the athletes, families, fans, judges and coaches for making this past season one to build on for the future!
State Meet Excite! Gymnastics Individual Results
Level 3
Kira Bookbinder 3rd place beam Div. 1b
Grace Ouimet 1st place bars, 2nd place All Around Div. 2A
Grace Hanas 2nd place beam Div. 2D
Layla Sullivan 3rd place floor Div. 2D
Chloe Rack 3rd place floor Div. 4G
Addison Cross 3rd place beam Div. 4G
Avery Creswell 1st place beam Div. 5B
Marissa Miltz 3rd place beam Div. 6C
Rylie Camp 1st place floor Div. 7A
Level 4
Isabel Pace 1st place floor, 3rd place vault, 2nd place All Around Div 4D
Tessa Hazzard 1st place bars Div 4D
Piper Gow 1st place vault Div. 4H
Caroline Herring 1st place All Around Div. 4I
Grace Offner 2nd place vault, floor, and All Around Div. 4N
Level 5
Madi Oliver 2nd place bars Div. 3
Grace LaFlamme 2nd place beam Div. 4