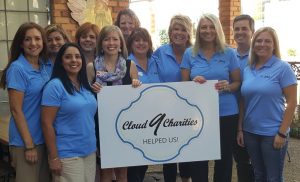 Flower Mound-based Cloud 9 Charities donated $1500 to The WARM Place on June 8.
The WARM Place provides year round grief support services to children, young adults and their families who have experienced the death of a loved one.
"The $1500 grant will provide an entire year of grief support services, at no cost, to a child who has experienced the death of a loved one," said Katie Lane, The WARM Place Director of Development, when she met with Cloud 9's board to receive the check.
The meeting lasted about 30 minutes during which she explained in greater detail how The WARM Place divides the children by age and by the type of loss they have experienced so that the care and the counseling can have the greatest impact.
She also described the weekly potluck dinners that give families a place to have a meal without the "empty seat" left by a loved one. Volunteers help plan and staff the meals so the families can relax and enjoy their time there.
This is the second time Cloud 9 has granted a donation to The WARM Place. Several members of the Cloud 9 board had toured the Fort Worth home where The WARM Place is located in the central medical district.
"This is the reason I am on the Cloud 9 board," said Cloud 9 President Stacey Mahieu. "I want to make a tangible difference in the lives of our community."
To find out more about The Warm Place call 817-870-2272 or www.thewarmplace.org
Cloud 9 Charities is a 501(c-3) organization that raises money for local non-profits who require additional funding to serve the needs of local families. By producing large community events Cloud 9 has raised over 2.3 million dollars for these charities since 2004. To find out more about Cloud 9 Charities call 214-415-4806 or www.cloud9charities.org