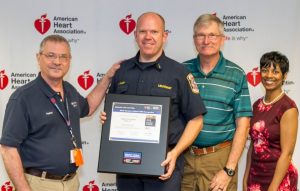 The Argyle Fire District was recognized by the American Heart Association's Mission: Lifeline program for providing rapid treatment for ST Elevation Myocardial Infarction (STEMI) patients.
A STEMI heart attack happens as a result of a complete blockage in a coronary artery and carries a great risk of death and disability.
"Every year, more than 250,000 people experience a STEMI, which requires fast and efficient expert care to increase chances of survival," said Takiyah Wilson, PhD., Quality and Systems  Improvement Director for the American Heart Association, North Texas Division.
"To have so many honorees in our community really shows the true dedication these teams have to providing top quality of care to patients they attend on a daily basis. We look forward to seeing more North Texas agencies listed each year."
The fastest way to diagnose if a heart attack is a STEMI is through a device called a 12-lead electrocardiogram. Ambulances equipped with this type of machine are able to identify a STEMI  on the scene and notify the hospital in advance while the patient is en-route, allowing the hospital team to be ready to open the blocked artery as quickly as possible. 
The goal of Mission: Lifeline is to ensure rapid and appropriate treatment for every heart attack patient, through a cohesive and coordinated system of care.
To learn more about the American Heart Association's Mission: Lifeline and the Mission: Lifeline EMS Recognition, visit heart.org/missionlifeline.