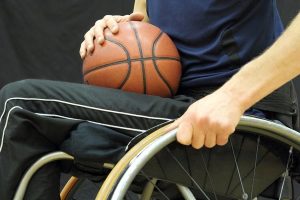 The 3rd annual Southwest Military Wheelchair Basketball Conference (SMWBC) gets its kick-off in Flower Mound at the Battle of Boards Competition between First Responders and Wounded Warriors on Friday, June 17, from 6 to 9 p.m., at the Cross Timbers Family YMCA, 2021 Cross Timbers Rd.
Attendance is free and open to the public. A free BBQ meal will be served by the Summit Club after the game.
In addition to the evening competition, there's also a juniors wheelchair basketball clinic from 10 a.m. to noon. The free basketball clinic is for boys and girls and will introduce them to the rules and fundamentals of wheelchair basketball.
Now in its third year, the SMWBC builds teamwork, competition, fitness, and fun among military veterans from all branches of the service. The SMWBC also provides the opportunity for veterans to have fun and build camaraderie. The goal of the competition is to strengthen community relations. The veterans, who are currently participating in adaptability sports, are from North Texas communities.
"This conference is a highly anticipated event each year," said retired U.S. Army Sgt. 1st Class Kent Robinson, founder of the SMWBC. "It shows veterans that, just because you have a disability, you don't have to be disabled; it doesn't mean you have to sit around on the couch. An active lifestyle is still out there, and it's waiting for you."
For more information about the SMWBC, contact Kent Robinson at: [email protected]
Dr. Ron Davis, a TWU professor who teaches adaptive physical activity, is also the director of TWU's Project INVEST (Injured Veterans Entering Sport Training) said that being part of a sports team is an excellent way to rehabilitate after a traumatic injury; or simply to ease back into civilian life after combat tours.
It will highlight more than 35 veterans representing all military branches from Texas, Arkansas, Louisiana and Oklahoma.
"Our organization's goal is to return injured veterans to their lives through sports, we're seeing that events like these have huge benefits for them," said Davis. "Their perspectives are becoming far more positive."
A variety of individual and group programs for servicemen and women and their families are provided.  These programs are designed to improve and promote overall well-being and independence resulting from a physically active lifestyle. Adapted activities include wheelchair basketball, indoor wheelchair soccer, wheelchair tennis, sit volleyball, rock climbing, water volleyball, goal ball, boccia, kayak soccer, and fitness activities.
Anyone interested in participating and attending may contact Davis at 940-898-2589, or at [email protected].
The entire event is also supported by Heritage Health Solutions of Flower Mound. Heritage is in its tenth year of providing pharmacy first-fill prescription services to more than one million military veterans at over 700 VA medical clinic locations across the country. For more information, visit:  www.heritagehealthsolutions.com.
On Saturday, the actual tournament begins at TWU's Pioneer Hall in Denton and runs from 8 a.m. until 5 p.m. This event will feature co-ed wounded warrior basketball teams and showcase Southwest Texas' finest military wheelchair basketball teams. Winners of the Saturday games will compete for the championship on Sunday morning with an award ceremony at noon.