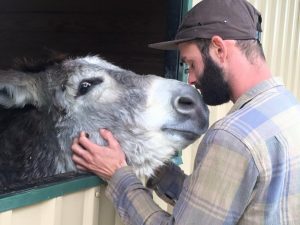 The team at Ranch Hand Rescue's Counseling Center in Argyle will provide services to anyone affected by the terrorist attack in Orlando who needs a safe place to discuss how the event has impacted them.
"Our team stands ready to assist in any way we can to help those impacted by this senseless tragedy," said Bob Williams, founder of Ranch Hand Rescue Counseling Center & Animal Sanctuary. "Our mental health professionals specialize in providing trauma informed counseling and will provide support to those in our community who have been directly traumatized by this event. It's important when these types of things happen that we help each other in any way we can."
Ranch Hand Rescue's mission is to provide hope, healing, and a sense of security for people, particularly children, who have suffered severe trauma, including but not limited to, child physical and sexual abuse, rape, domestic violence, and witnessing murder and suicide.
The organization accomplishes this by utilizing Equine/Animal Assisted Counseling which partners rescued animals with people, under the guidance of a Licensed Professional Counselor, in mental health counseling sessions, conducted in the safe and peaceful setting of their animal sanctuary. Ranch Hand Rescue is located at 8827 S. Hwy 377 in Argyle.
Interested individuals can call 940-464-0985 or email [email protected].
For more information on Ranch Hand Rescue, visit: http://ranchhandrescue.org.