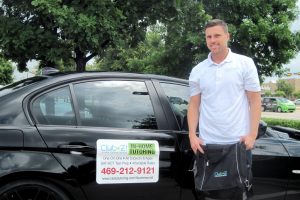 While summer is when children relax and have fun, it should also be a time for ongoing learning.
"It's important they keep their minds fresh so there's no drop-off going into the school year," said Colin Little, area director of Club Z! In-Home Tutoring. "There definitely needs to be a maintenance schedule involved.
"Parents keep expressing concern that their children will have nothing to do and nothing to learn over the summer. They are looking for affordable alternatives. Fortunately, Club Z! can help."
The 31-year-old Little serves pre-kindergarten to pre-med students in Flower Mound, Lantana, Argyle and Highland Village.
Club Z! Tutoring is the nation's largest in-home tutoring and test prep provider, with over 400 franchised locations throughout the United States and Canada.
Club Z! has helped hundreds of thousands of students improve their test scores, classroom grades, and academic self-confidence through its proven one-on-one tutoring approach. Over the past 20 years, the company has established a name for itself as the go-to source for all things tutoring and test prep related.
Little conducts initial free in-home consultations to determine the type of help students need based on learning style and personality. He then matches them with the right tutor from a pool of 7-10 mostly current and retired teachers. Each tutor must have at least a Bachelor's degree and a minimum one year of tutoring experience or a teaching certificate.
Tutors can help with anything from specific subjects like math or science to in-school tests to those for college entrance. It truly is a one-stop shop which is what attracted Little to the job.
"It's ideal for moms with 2-3 kids who don't have the time to drive them around town all day," Little said. "Our services take the classroom element out of the equation so that our tutor can ensure the student understands each concept before moving forward."
Every tutor works individually with each student to assure maximum learning effectiveness. Sessions generally last one hour and a half and can be conducted multiple times per week.
"When tutoring students, I've found that often there's a direct correlation between education challenges and social struggles (specifically self-esteem and social anxiety)," he said. "It gives me the ultimate joy to see the renewed confidence we help build from our tutoring translate from school success to happiness in their social life."
Contact Little at Club Z! at 469-212-9121.