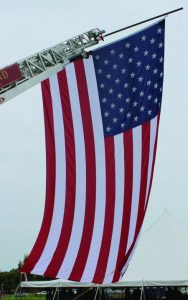 by Dru Murray
Entitled "A Day to Remember," Flower Mound's Memorial Day Service on Monday highlighted the sacrifices men and women who died in the line of duty and their families made and the honor they deserve for those sacrifices.
Citizens from both Flower Mound and Lewisville attended as did dignitaries, including State Representative Tan Parker.
Attendee Mark Conrad of Lewisville said he and Alex Conrad attended "to pay tribute and honor those fallen in battle and to honor what they've done for our country."
Flower Mound Mayor Pro Tem Kevin Bryant presented opening remarks during which he welcomed all. The Flower Mound Fire Department Honor Guard posted the colors and Boy Scout Troop 415 led the audience in the pledge of allegiance. The Voices of Flower Mound and audience members belted out a stirring rendition of the national anthem.
Russ McNamer, chaplain of the Flower Mound Fire Department, offered the opening prayer, followed by a bagpiper in the Flower Mound Fire Department's Pipes & Drums playing "Amazing Grace."
Bryant then introduced the keynote speakers. The first speaker was Ret. Lt. Colonel Ginger Simonson, who said, "Today is a solemn day, a day of remembrance." Following her was Colonel Paul T. Patrick of the U.S. Marine Corps who addressed the bravery of our fallen soldiers who sacrifice their lives without hesitation. Next, Simonson and Patrick laid a wreath near the Memorial Wall displaying the stories and photos of Americans who died in action during various conflicts and wars.
Chaplain McNamer read out the names of fallen service members; after each name was announced, a member of the Flower Mound Fire Department struck a bell, emphasizing the gravity of that announcement. Chaplain McNamer then delivered a closing prayer before Iver Sneva concluded the ceremony by playing the as-always heartrending "Taps" on his trumpet.