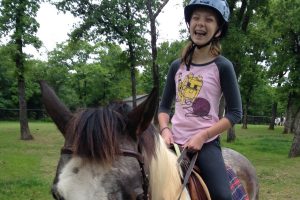 Unbridled Horse Therapy's mission is to encourage and facilitate the unrealized potential for those with special needs and disabilities through the connection between horse and rider; the benefits that equine therapy has to offer.
Harnessing the almost mystical connection that forms with riders and therapy horses may not be new to North Texas, but Unbridled is; they opened three months ago. Its opening was serendipitous, because the Spirit Horse therapy facility in Corinth suddenly closed its gates without warning in the first week of February.
Spirit Horse had served more than 400 children a semester, and a group of dedicated instructors decided to keep its mission going by creating Unbridled Horse Therapy. The non-profit organization provides equine therapy for kids and adults with various special needs and disabilities, including armed forces veterans.
"These horses truly can help make a difference in someone's life," said Nichole Gregory, Unbridled co-founder and instructor. "With the use of therapeutic games and programs, we are able to mold each therapy session to [meet] what the rider's needs are."
During lessons, each client is matched with a personal instructor and horse and is then guided through a series of research-based steps that help to stimulate healing of cognitive delay, engage the core muscle groups, develop speech and improve coordination, rhythm and balance.
"I've yet to meet a family who has a 'special need' child, it's always plural; 'special needs,'" said Brenda Busch, mother of a four-year-old rider and vice president of Lakewood Brewing Company in Garland, which held a fundraiser there on April 10. "These families are often paying for occupational therapy, physical therapy, speech therapy, behavior therapy and medical expenses. Unbridled Horse Therapy incorporates goals from all these therapies into one very rewarding experience for both the rider and their family."
"We encourage our parents to be an active participant in the lesson thus facilitating in the learning with repetition at home," said Gregory. "Our clients tack and un-tack their horse.  This is a vital role in their therapy, providing sequencing skills, independence and personal responsibility."
The fundraising goal of Unbridled Horse Therapy is to raise enough money to provide scholarships and financial support so that any family, regardless of finances, can reap the benefits the program has to offer. Providing over 200,000 free lessons proved very difficult financially for Spirit Horse during its 14-years of operations.
"The financial scholarships that Unbridled Horse Therapy works so hard to provide are essential in making this program accessible to these kids," said Busch. "Without that support, most of these families would not be able to afford to participate."
"Unbridled Horse Therapy saw a need in the community and surrounding area," said Highland Village Mayor Charlotte Wilcox. "Instead of turning a blind eye to the situation, they are helping others and looking forward to growing their business. I highly recommend Unbridled Horse Therapy for anyone needing horse therapy for their loved ones."
Unbridled offers flexible scheduling and is open year long, including summer, for both their special needs clients, as well as lessons to typical riders as well.
Unbridled is located at 1100 Simmons Rd., in Flower Mound and is now scheduling lessons by appointment only. For information, visit: www.unbridledhorsetherapy.com, or view Unbridled Horse Therapy on Facebook. To schedule a visit or tour, call 469-319-2599.