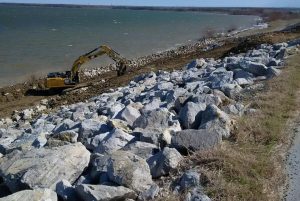 The U.S. Army Corps of Engineers, Fort Worth District continues its efforts to repair embankment slides at Grapevine and Lewisville Lake Dams which occurred during the floods last year.
Both dams continue to function as designed and there are no immediate failure concerns within the sections of the dam where the slides are, officials said in a press release. The repairs need to be made in order for the continued structural integrity of the dams.
"These types of slides are not uncommon with earth rolled structures but do need attention in order to prevent future damage," the press release stated.
At Grapevine Lake Dam, in-house crews from the Corps' Vicksburg District are working on repairing the approximate 95-foot slide along the north side of the dam to the east of the spillway. Currently, repairs are 50 percent complete and the existing soils are being treated with lime and being placed back in compacted lifts. The estimated cost of the repairs is approximately $1 million.
Fairway Drive, commonly known as the Dam Road, reopened to motorists this past weekend after being closed for five weeks as part of the dam embankment repairs.
The repairs to the 161-foot long embankment slide at the Lewisville Lake Dam are continuing as scheduled. Currently lime is being mixed with soil for the test section. The contractor is working daily to ensure the repairs are completed as soon as possible. Cost of the repairs is approximately $6.4 million.
"Life safety is our main priority within the Army Corps of Engineers," said Col. Calvin Hudson II, commander, Fort Worth District. "Our Dam Safety Program seeks to ensure that Corps-managed and operated dams present minimized risks to life, property, and the environment.  Dams are designed and built to reduce flood risk, but they cannot eliminate all risk."