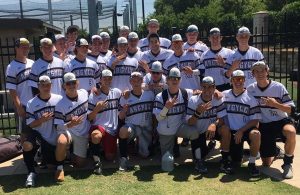 The 4A state champs advanced to the regional semifinals after besting Sanger in a three-game playoff series on Saturday at The Ballpark in Argyle.
Argyle came up short in Game 2 earlier in the afternoon, losing 3-1 to Sanger.
The Eagles rallied in Game 3 to take the series by a score of 5-0.
Brendon Dixon led the way offensively for Argyle with a fifth inning home run.
Gage Campbell pitched a complete game, striking out 11.
Argyle will play Paris North Lamar in the regional semifinals on May 28 at a time and location to be determined.
.@Argylesports defeats Sanger 5-0. #txhsbase pic.twitter.com/jQwxl1gBuK

— The Talon News (@TheTalonNews) May 21, 2016
Dixon hits a HR in the 5th to help give @Argylesports a 5-0 lead over Sanger. #txhsbase pic.twitter.com/qKG7lboyxM

— The Talon News (@TheTalonNews) May 21, 2016
At the top of the 5th, @Argylesports leads Sanger 3-0. #txhsbase pic.twitter.com/LCMiOVNlTk

— The Talon News (@TheTalonNews) May 21, 2016
After 2 innings, @Argylesports leads Sanger 1-0. #txhsbase pic.twitter.com/QaSuyi2ZWq

— The Talon News (@TheTalonNews) May 21, 2016
.@Argylesports falls to Sanger 3-1. They will play the 3rd game of the series in 30 minutes. #txhsbase pic.twitter.com/TEpBKcCLC3

— The Talon News (@TheTalonNews) May 21, 2016