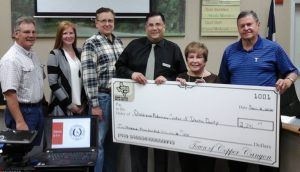 Paul Klotz gives update on Children's Advocacy Center of Denton County
Paul Klotz is both a Town resident and a Board Member of the Children's Advocacy Center of Denton County.  In 1997 the conviction rate of alleged physical and sexual abusers of children was a mere 8 percent.  But 15 years ago the CACDC was formed.  Last year the conviction rate was an astounding 77 percent.  Because the Children's Advocacy Center brings together everyone on the prosecution team:  law enforcement arresting officers, detectives, trained  nurse sexual examiners with anatomically correct dolls, treating physicians, Child Protective Case Workers, CASA volunteers, Assistant District Attorneys, and non-perpetrating parents and relatives of the abused child.  In 2015 the Advocacy Center treated 701 child victims.  95 percent of the children were victims of sexual abuse.
The Children's Advocacy Center is located in Lewisville at 1854 Cain Drive, a half block south of FM 407 and several blocks west of I-35E.  Visitors are welcome to tour the facility, but do call ahead: 972-317-2818.
Council Presents $2,341 Annual Gift to CACDC Executive Director Dan Leal
Each year Copper Canyon receives back from the State a portion of court fines    that must be used for limited child safety purposes such as: school crossing guards, child safety seats for automobiles, etc.  The Town has no schools within its boundaries, so crossing guards are not needed.  And the Council felt that Town residents could personally afford automobile safety seats for their children.
However, individuals capable of physical or sexual abuse of a child are often serial predators with multiple victims over a span of years.  But the Children's Advocacy Center has a reputation for obtaining convictions and putting these predators behind bars.  Removing the people who abuse children from our communities pays the Town's gift "forward" – it saves those children who might be future victims from what can be a life-altering, awful experience – both emotionally and physically!
County Commissioner Andy Eads presents new Cross Timbers Rotary Club
County Commissioner Andy Eads has been a Rotarian for many years.  But he and other Rotarians decided in 2015 to found a new Cross Timbers Rotary Club that would encourage membership across Town boundaries in southern Denton County.  Beginning with 60 members, the Club has dramatically expanded to 95 individuals.  The Club meets from 8-9 a.m. every Friday morning at the Bridlewood Country Club in western Flower Mound.  The morning meetings recess promptly at 9 a.m., as many members must report to work.
Cross Timbers Rotary's first fund raiser was a Luncheon, also at Bridlewood Country Club.  The first time event raised an amazing $35,000!  These donations will fund a variety of charitable causes in southern Denton County!  Congratulations to Commissioner Eads for an incredibly vigorous launch of a new service organization.  (For questions or suggestions email the Commissioner at [email protected])
 Win-Win Settlement of Morningstar Lawsuit
This lawsuit was only the second one filed against Copper Canyon in the past 11 years.  The only prior lawsuit was filed jointly against Flower Mound, Highland Village, subdivision Terracina's developer, Toll Brothers home builders, and Copper Canyon.  The issue concerned drainage runoff on Chinn Chapel Road onto ranch land in Highland Village south of the railroad tracks. Copper Canyon was dismissed from that lawsuit without liability and with prejudice against the Highland Village landowner refiling against the Town.
My personal "Thanks" to our Town Attorney Terry Welch for his excellent legal and practical advice!  It has kept Copper Canyon virtually free of expensive and litigious lawsuits over the past decade.  And for the guidance of his Brown and Hofmeister legal partner Ed Voss, whose specialty is representation during actual trial litigation.
The Morningstar lawsuit settlement results in:
(1) An additional 17 acres in Copper Canyon's ETJ, or extraterritorial jurisdiction, being annexed into the Town. (Copper Canyon is a General Law municipality under State Law and cannot unilaterally annex adjoining land without a Home Rule Charter.  A Home Rule Charter requires a minimum municipal population of 5,000 people and a positive citywide election on the proposed Charter.  Our Town only has a population of less than 1400 and will probably never reach the threshold of 5,000 residents for the option of passing a Home Rule Charter.  So annexation of any land into Copper Canyon requires a voluntary Petition to Annex by all the legal landowners in that specific area of Copper Canyon's ETJ.)
(2)  The 17 acres are part of a 42 acre tract on Copper Canyon Road, known currently as Camp Summit.  The future developer has agreed to 42 residential lots, with a minimum of 3,500 sq. ft. homes, 90% masonry (an upgrade to our current Town requirement of 80% masonry), and a minimum of 3 car garages per home.  The subdivision will be gated, which reduces crime, and will have concrete private streets which will be maintained in the future by an HOA and not the Town.
(3) Lantana residents will not be able to cross through the subdivision to access Copper Canyon Road.  This is a major advantage to Copper Canyon, as Copper Canyon Road already carries a significant amount of commuter traffic.
The lawsuit settlement is an apparent win-win for both the landowner and Copper Canyon!
Town Council listens to Resident Input on Orchid Hill Lane Speed Limit
Three years ago the Council asked for input from Town residents on the Speed Limit on Orchid Hill Lane.  The Council then gave priority to the preference of Town residents who actually lived on Orchid Hill Lane.  Many of those individuals walked, or walked with their pets, on Orchid Hill.  And, many of those same residents personally mowed the right-of-ways adjacent to Orchid Hill Lane.  Those residents almost unanimously asked that the speed limit on Orchid Hill Lane not exceed 30 MPH.  In 2013 the Town Council honored the residents' request.
However, since then many Town residents have asked that (1) Orchid Hill's speed limit be raised to35 or 40 mph; and (2) that the Town's perimeter roads – Copper Canyon Road, Chinn Chapel Road, and Orchid Hill Lane – all have a uniform speed limit of 35 or 40 mph.  The Town's ordinances are not etched in stone, and the Council will reconsider items that are receiving a large number of complaints. The Council considered the speed limit on Orchid Hill Lane, and all perimeter Town roads, at the Monday April 11th Council Meeting.
Notice of the meeting was emailed to all residents on Orchid Hill Lane, and roads that access Orchid Hill – Landseer, Abbott, Meadow Lake, Lake Trail Drive, and Canyon Bluff Court – and to residents on Chinn Chapel Road north of the railroad tracks, Mobile Drive, and Blackjack Lane.  Approximately 300 Town Residents have signed up for the Town's "email blast."  Those Residents were also alerted to the Orchid Hill speed limit agenda item and asked to submit comments.  All Town residents were welcome to attend the meeting and offer their input on the speed limit on our three Town perimeter roads.
Many thanks to Town Administrator Donna Welsh for preparing a spreadsheet with names, addresses, and verbatim comments of all residents who sent emails, or telephoned Town Hall, or came to the Council Meeting in person on the subject.  Almost all residents responding thanked the Council for asking for their input.  Of the 58 residents responding, 25 households or 43% wanted to increase the speed to 35 mph, and 12 households or 21% wanted to increase the speed to 40 mph.  Of the 21 or 36% of responding residents who wanted to leave the speed limit at 30 mph, almost all had homes fronting on Orchid Hill.
The overwhelming personal attendance at the April 11th Council Meeting was by residents who actually have homes fronting on Orchid Hill.   With one exception, all Orchid Hill Residents asked that the speed limit of 30 mph NOT be increased.  Almost all noted that motorists regularly drive 10 miles per hour or greater OVER the posted speed limit.  And, they specifically asked for increased speed limit enforcement by our Town's designated sheriff's deputies.
One comment was that an increased speed limit of 40 mph only shortened the driving time for the 1.5 miles from Copper Canyon Road to FM 2499 by one minute – from 4 minutes to 3 minutes.  However, if vehicle speed increased from 30 mph to 40 mph, stopping distance for an average automobile driver increased from 80 feet to 126 feet.  Stopping distance for trucks increased from 100 feet to 164 feet.
Thanks to the following Copper Canyon residents who took the time to personally come to the Council Meeting and share their concerns with Council Members:  Steve and Sally Butler, John Calkins, George Campbell, Tom Giovanetti, Robin Grider, Jack Patterson (also speaking for his neighbor Gary Nance), and Ken Seale.
 The Council again had to balance the expressed wishes of the majority of Town residents with the concerns of those home owners most directly affected who lived on Orchid Hill.  And, once again, the Council voted unanimously to leave the speed on Orchid Hill at 30 mph
Fannie Mae Cleaning Up foreclosed Home & Acreage at 648 Chinn Chapel
Fannie Mae has foreclosed on the home and 2.5096 acres at 648 Chinn Chapel Road and begun an extended cleanup process.  The former owner had several months to remove his own personal property from this inherited real estate.
Fannie Mae estimates it will take several weeks for a clean-up crew to remove all the remaining items from the property, including those stacked in the right-of-way on the west side of Chinn Chapel Road.  The clean-up process may take longer, as recent heavy rains have made the ground too soggy for trucks and heavy equipment to maneuver on the acreage.  Our sincere appreciation to Constable Jerry Raburn, of Denton County Precinct Three, for assisting in the extended clean-up.
The 2.5096 acres, including the old home and a large shed formerly used for pottery making, is or will be listed for sale.  (The concrete floored shed is approximately 12-14 feet wide by 50 to 60 feet long.)  Because acreage is so valuable in Copper Canyon, a buyer may wish to demolish the current structures and build a new home and accessory building.
An additional 1.0 acre adjoining the above property has been foreclosed on by Federal National Mortgage.  This one acre was owned by another relative, who also inherited the vacant land. At this time, it is not known if the total 3.5096 acres with home and pottery shed may be purchased together or the one acre fronting Chinn Chapel Road possibly purchased separately.
Town Council votes Unanimously to Nominate Jim Carter for Denco 911
Copper Canyon's Town Council voted unanimously to again nominate our former County Commissioner Jim Carter for a second term on Denco 911's Board of Managers.  Carter has already been nominated by the municipalities of Lake Dallas, Northlake, Shady Shores, and The Colony.  Jim Carter, former Mayor of Trophy Club and Denton County Commissioner, is currently serving as the President of Denton County Emergency Services District #1.  ESD#1 provides fire and emergency medical services to 65 square miles in Denton County – including the cities of Argyle, Bartonville, Copper Canyon, Corral City, Northlake and other unincorporated areas of Denton County such as Canyon Oaks subdivision.  Carter has often commented that every minute saved by a Denco 911 expedited response saves both property in a fire – and more importantly – lives in a medical emergency.