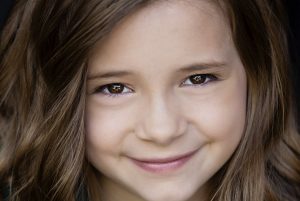 Lantana resident, Kiera Strauss, 9, recently joined a very select family; the "Roots" family of featured actors.
The on-screen family originated with the partially-fictional, Pulitzer Prize winning bestselling book, "Roots: The Saga of an American Family," authored by Alex Haley in 1976. His ancestral story reaches back through American history and the decades of slavery to his ancestor, Kunta Kinte, who was captured in Africa and transported to America in a slave-trader's ship.
The story was the genesis of the original 1977 mini-series "Roots," which became one of the most popular shows in the history of American television. But, more importantly, it focused attention on African-American historical-cultural-political issues.
Fast forward almost 40-years later; a new production of "Roots" will premiere on Monday, May 30, in a simulcast on the History Channel, A&E and Lifetime as a four-night, eight-hour event.
"Nearly 40-years-ago, I had the privilege to be a part of an epic television event that started an important conversation in America," said LeVar Burton, the 1977 original Kunta Kinte actor and 2016 Co-Executive Producer. "I am incredibly proud to be a part of this new re-telling and start the dialogue again; at a time when it is needed more than ever."
Viewers will meet Strauss as the character Young Missy Reynolds, the daughter of a plantation owner, who makes friends with the slave, Kizzy Reynolds, played by Saniyya Sidney.
"My favorite part of acting in the movie was in scenes that showed the friendship between my character, Young Missy, along with fellow actress Saniyya Sidney who played Young Kizzy," said Kiera. "Back during those days, non-­slaves and slaves were not supposed to be friends, but our characters found a way to see the good in each other."
In her everyday environment, the third-grader at Blanton Elementary lives with her parents, Ken and Danielle, plus two older brothers—seventh-grader Kylan, 12, and sixth-grader Kolton, 11. The boys attend Harpool Middle School, where Danielle is the school nurse.
"I told the kids they could each choose three after-school activities and then drop what they didn't want to follow," said Ken Strauss. "Back when she was six, Kiera picked karate, like her brothers, dance (ballet) and acting."
Kiera now is a yellow-belt in karate; both brothers are brown-belts. They study with Wayne Murphy of Body Bionics who holds classes in Lantana.
She's been a student for three years with "Mrs. Cathy," the owner of Cathryn Sullivan's Acting for Film school in Lewisville. Her training was invaluable after she was cast in "Roots."
"I see why my acting coach, Mrs. Cathy, teaches us to be prepared for every class so that we would understand how important it is to be prepared for a major production," said Kiera.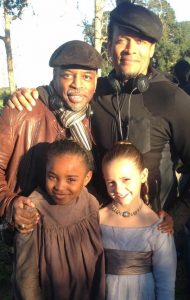 Sullivan's ability to nurture talent has given her a long career of coaching young actors for film and television projects, including: Demi Lovato; Selena Gomez; Hayley Orrantia; Thomas Mann; and now, Kiera, among others.
"Three or four times a year, she [Sullivan] holds acting seminars for her students and agents from everywhere come and watch the kids act," said Kiera's dad. "After her first year, Kiera was signed by Dee Ann Vernon from the Kim Dawson Agency in Dallas. She's been in some commercials and other things, but this is her first 'real' acting job."
Kiera auditioned on tape, which was sent to A&E productions and Executive Producer Mark Wolper of The Wolper Organization, the company that produced the original "Roots." The director for her episode was Mario Van Peebles ["New Jack City" 1991].
"Everything about this experience filming "Roots" was positive," said Kiera. "I was able to learn from talented cast and crew members. I also learned that a lot goes into a TV production, there are many people behind the scenes who work very hard to make the project great."
After she was cast as Young Missy, her family joined the cast in New Orleans for filming, which wrapped this January.
"My dad spent time teaching me about slavery that took place in American History, in addition to what I learned in school, so that I could better understand the story of 'Roots,'" said Kiera.
Her lessons in both history and acting allowed her to perform as a professional with other professionals and create new friendships.
"Saniyya Sidney, Malachi Kirby who played the role of Kunta Kinte, and Emyri Crutchfield who played an older version of Kizzy all became friends," said Kiera. "Saniyya, Malachi and I spent Thanksgiving Day with Emyri Crutchfield's family while we were all still in Louisiana filming."
As so often happens with acting "families," friendships continue past the end of the production.
"Saniyya Sidney and I have become good friends, we like to Facetime to keep in touch," said Kiera. "We spent time off set sightseeing around New Orleans. Both of our families have become friends too, they came to stay with us in January and we hope to be visiting them in California later this spring."
The 2016 production of "Roots" had its international premiere on Tuesday, Apr. 4, in Paris, France, prior to the Memorial Day debut in America.
"'Roots' will allow new audiences to experience this epic family saga with a new vision that is both incredibly inspiring and tremendously entertaining," said Paul Buccieri, President of A&E and the History Channel.
For more information and to view a preview of the 2016 "Roots," visit: www.history.com/shows/roots