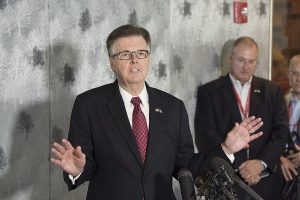 The civil rights of all students under any education program or activity receiving federal financial assistance is a subject educational entities have been dealing with for years; not just since last week.
The Obama administration on Friday instructed every school district in the country to let transgender students use the bathroom that corresponds with their gender identity.
Many school districts in Texas have been quietly dealing with the issue on a case-by-case basis.
"The district does not have a written board policy regarding this issue, but works with students on an individual basis anytime they feel uncomfortable in any situation," stated Mario Zavala, director of Communications & Community Relations for Denton ISD.
Obama's directive stated transgender students have the right to use their preferred bathrooms in public schools because of Title IX, a federal statute that prohibits discrimination on the basis of gender at education institutions that receive federal funding.
The directive issued on Friday includes no new legislation or amendments to existing laws. It serves as a reminder of the existing U.S. Department of Education (USDE) guidelines in response to North Carolina's backlash regarding transgender restroom use.
Like most educational institutions and sports federations, such as the NCAA, the USDE has been helping guide institutions through the civil rights legalities for both transgender and other classmates.
The Civil Rights Act of 1964 (enacted July 2, 1964) is the landmark piece of civil rights legislation in the United States that outlawed discrimination based on race, color, religion, sex, or national origin. It's the legal "umbrella" or outer-circle of the "bull's eye" targeting individual rights.
Narrowing the circle was Title VII of the 1964 Act, which prohibits discrimination by covered employers on the basis of race, color, religion, sex or national origin. It also prohibits discrimination against an individual, because of his or her association with another individual of a particular race, color, religion, sex, or national origin, such as by an interracial marriage.
The 1964 Act did not include any prohibition on gender discrimination in public education and federally-assisted programs. Eight-years later, Title IX, best-known for its impact on high school and collegiate athletics, addressed gender issues.
Targeting sex-discrimination, Title IX is a portion of the United States Education Amendments. It was signed into law on June 23, 1972, by President Richard Nixon.
It states (in part) that: "No person in the United States shall, on the basis of sex, be excluded from participation in, be denied the benefits of, or be subjected to discrimination under any education program or activity receiving federal financial assistance."
In 1980, responsibility for Title IX enforcement in educational institutions was delegated to the Department of Education's Office for Civil Rights (OCR).
The Civil Rights Restoration Act was passed in 1988 under President Ronald Reagan. It extended Title IX coverage to all programs of any educational institution [public or private] that receives any federal assistance, both direct and indirect [such as academic or athletic scholarships].
In 1986, the Supreme Court held (in Meritor Savings Bank v. Vinson) that sexual harassment is sex discrimination and is prohibited by Title VII. Same-sex sexual harassment has also been held in a unanimous decision written by Justice Antonin Scalia to be prohibited by Title VII.
Targeting transgender civil rights was specifically addressed by the U.S. Department of Justice and the OCR in 2013. It is the most-cited guideline regarding gender-identity issues.
The July 24, 2013, Resolution Agreement between the Arcadia Unified School District, the U.S. Department of Education, Office for Civil Rights, OCR Case Number 09-12-1020 DOJ; and, the U.S. Department of Justice, Case Number 169-12C-70, dealt with sex-specific facilities (facilities and accommodations used by students at school or during school-sponsored activities and trips and include, but are not limited to, restrooms, locker rooms, and overnight facilities).
The issue involved a student, a transgender boy, who has consistently and uniformly presented as a boy at school and in all other aspects of his life for several years, as supported by documentation provided to the District by his family. The student has been known, treated, and accepted as a male by his family, teachers, and classmates.
Specifically, the Complaint alleged that the District denied the student educational opportunities on the basis of sex when, because the student is transgender, it prohibited him from accessing (1) sex-specific facilities designated for male students at school for use during school and extracurricular activities; and, (2) sex-specific student cabins for male students during a school-sponsored overnight academic camp.
Most recently, the "bulls eye" center was the Dec. 2, 2015, Agreement to Resolve between Township High School District 211 [Wisconsin] and the U.S. Department of Education, Office for Civil Rights—OCR Case #05-14-1055, Section II.A.1 directly addresses, not only restrooms, but locker rooms and showers. More importantly, it reinforces the civil rights for not only transgender students, but all students.
In part, it states: "the District agrees to provide Student A [a transgender female student] access to locker room facilities designated for female student at school and to take steps to protect the privacy of its students by installing and maintaining sufficient privacy curtains (private changing stations) within the girls' locker rooms to accommodate Student A and any students who wish to be assured of privacy while changing."
Section II.A.2 continues that the home District will coordinate those same conditions with hosts of off-campus, District-sponsored activities.
Section II.B. states: "if any student requests additional privacy in the use of sex-specific facilities designed for female students beyond the private changing stations described in item II.A.1, the District will provide that student with access to a reasonable alternative, such as assignment of a student locker in near proximity to the office of a teacher or coach; use of another private area (such as a restroom stall) within the public area; use of a nearby private area (such as a single-use facility); or a separate schedule of use.
The Administration Directive reminds everyone that the legal "bull's eye" regarding all students' civil rights has already been "hit." Attempts to reverse or ignore the progression of United States Civil Rights laws will not only be illegal, but it will also deprive institutions of federal funding; which all taxpayers will need to compensate—either through higher district taxes, school bonds or legal costs.
No elected official was more vocal after Friday's directive than Texas Lt. Gov. Dan Patrick, who called it a "modern come-and-take-it issue" and "the biggest issue facing families, schools, in America since prayer was taken out of public schools." Patrick urged Texas superintendents to resist pressure from the federal government to follow the guidelines.
"He says he's going to withhold funding if schools do not follow the policy," Patrick said of President Obama. "Well, in Texas, he can keep his 30 pieces of silver. We will not be blackmailed by the president of the United States."
Joy Baskin, director of legal services for the Texas Association of School Boards, said the directive does not "represent a change in what we've understood from those departments for a couple of years consistently."
Current guidelines from the association advise districts to handle situations on a case-by-case basis to find solutions that are acceptable both to transgender students and students and parents who may have safety concerns.
"These are not new issues for school districts, these are not new issues for school attorneys," Baskin said. "They are complicated, as gender issues are complicated, and each situation is different."
Some of the information in this article is from The Texas Tribune.