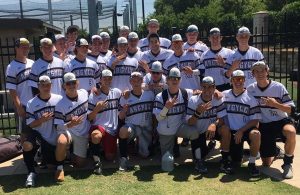 The Argyle baseball team made it a two-game sweep of Melissa on Saturday afternoon in the area round of the playoffs, defeating the Cardinals by a score of 12-2 to advance to the regional quarterfinals.
Argyle opened the best of three series with a 9-3 victory on Friday night.
The Eagles were led by Connor Mushinski in the Saturday, who had a great night on both sides of the ball.
Mushinski had three hits in the game for the Eagles including a three-run home run. He drove in five runs.
The Argyle junior also started the game and picked up the win on the mound.
Watson Timmons had a two-RBI single in the game for the Eagles.
Argyle will face Sanger in the regional quarterfinals on Saturday, May 21, at a location to be determined.