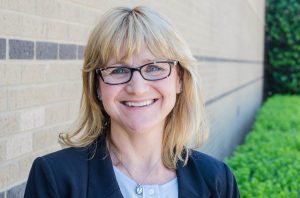 Lewisville ISD announced May 16 the appointment of Kelly Knight as the new Principal of McKamy Middle School, effective the beginning of the 2016-2017 school year. Knight is replacing Pete Taggart, former McKamy Principal, upon his retirement this spring.
"My leadership experience in both the education and corporate sectors has given me a keen understanding of the world our students will enter upon graduation," Knight said. "Today's students must master 21st century competencies, such as digital literacy, creativity, collaboration, cross-cultural communication and critical thinking, in order to thrive in an ever-changing global landscape.
"My vision is to lead McKamy in a full implementation of LISD's core beliefs and goals, and to weave 21st century strategies seamlessly into instruction," Knight said. "I believe teachers need unwavering support in creating innovative learning. I am looking forward to collaborating with parents and our community throughout this exciting transformation."
Knight has worked in LISD for 13 years, most recently as Assistant Principal of Clayton Downing Middle School. In her current role, she is passionate about serving the whole child. She added, "I believe educators are charged to positively impact student lives every day."
Knight began her career in the education field as a Spanish teacher at Flower Mound High School from 2003 to 2008. From 2008 to 2011, she served as a Spanish Teacher at Downing. In 2010, Knight was named Downing's Teacher of the Year and was a top five teacher of the year finalist in LISD.
"Mrs. Knight's experience as a teacher at both Flower Mound High School and Downing Middle School, along with her administrative experience being in middle school, make her a solid match for McKamy," LISD West Zone Leader Rhonda Godbey said.
Prior to entering the educational field, Knight was a successful business professional and manager in the Informational Technology consulting and staffing industries for 12 years.
Knight is a graduate of The University of Texas at Austin, where she received a Bachelor of Science degree in Speech and Organizational Communications and minors in Spanish and Government. She earned her Masters in Educational Administration from Texas Woman's University. Knight received her ECAP certification to teach Spanish in 2003. She was also awarded her Principal Certification by the Texas Education Agency in 2011.
Knight and her husband, Grant, reside in Flower Mound and have one daughter, Kayla, who currently attends The University of Texas at Austin.