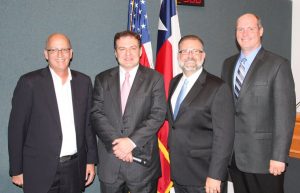 The atmosphere in the Flower Mound Town Council Chamber felt like a window had been opened and fresh air filled the room at Monday night's meeting. There were smiles, laughter, flowers and good-natured joking between council members; what a change a year makes.
Following the May 2015 election, the chamber has been like the dark side of the moon with a hostile and divisive atmosphere between council members and residents; which earned the town an undesirable reputation.
As pointed out by re-elected council member Bryan Webb, the May 7 election came down to one central issue—whether residents wanted to continue on the established recent growth path, or head-off in a new direction. Town voters made a clear decision by re-electing Mayor Tom Hayden in addition to Bryan Webb, as well as new council members Don McDaniel in Place 4 and Jason Webb in Place 1.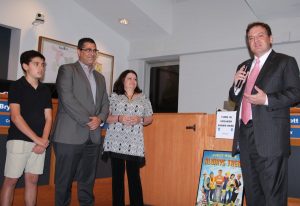 Before the new council was sworn in and seated, the two exiting council members who chose not to run for re-election—Deputy Mayor Steve Dixon and Place 1 Mark Wise—shared their thanks to their fellow council members and passed along some words of advice.
"Learn about all the different sides of an issue and to go to bed early the night before a meeting," Wise said.
Dixon, council's self-anointed historian, cited interesting facts about the town's growth since 2009; the year he and Hayden were first elected, including: sales tax revenue has increased from $12.4 million to $20.5 million, which takes the burden off the town residents; and, a yearly rise in jobs created for a total of 10,687 through 2015.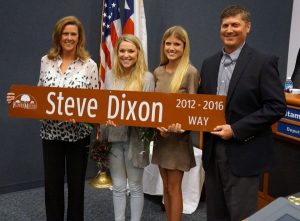 He also said: "Council needs to address such high-priority issues as: taking action on the new Town Hall as the tax increment reinvestment zone (TIRZ) clock is ticking; work on creating development guidelines for net-zero [energy] buildings; and, there needs to be separation of high-density and multi-family zoning definitions."
Incoming council member Jason Webb said he'd keep his promise "not to embarrass my daughter, 14," and is excited to bring people forward to work together.
Bryan Webb agreed with Dixon's listing of addressing a new Town Hall and added some of his own.
"We need to purchase the three-acres next to the library for a park and preserving the town's tree canopy," he said. "We need to expand the library, which has transformed into a learning center and build senior housing properties; the fastest-growing segment of our population and [I] will work with this council to build consensus."
McDaniel said his wife had looked at how happy Dixon and Wise looked at the pre-meeting reception and asked him if he was sure he really wanted to start serving on council.
"I told her I was in too deep not to do this [serve]," he said with a smile. "I also am in agreement with the list of things we need to do on Steve's list."
For his part, Hayden simply said he was: "looking forward to moving forward."
With a unanimous vote, Kevin Bryant was chosen as the Mayor Pro Tem, replacing Dixon, and council member Bryan Webb was chosen as Deputy Mayor Pro Tem, replacing Itamar Gelbman.
The next Town Council meeting is scheduled for June 6.