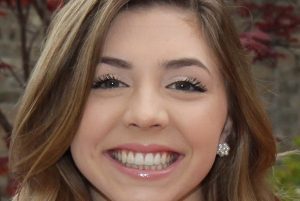 Sometimes, the best students are the ones whose passion for one activity is so profound that it could prove to be a life calling; and, not the ones involved in multiple activities.
Anna Wojciechowski is a senior at Flower Mound High School with good grades and citizenship. She also serves as President of the Circle of Friends, an organization with a very special purpose.
"It's an organization that helps special-ed kids and regular-ed kids form friendships," Wojciechowski said. "Whether that's helping in a classroom, or activities you can do outside of school, it gets people interacting."
The Flower Mound teen said it is rewarding for her, but not necessarily as much as one may think.
"People always say, 'you should feel so proud,' but it is something that I feel really comfortable with and it kind of grows on you," Wojciechowski said. "I don't see special education kids as being any different."
Wojciechowski said one of her favorite moments of the school year actually came during a social event.
"Recently, we had a big grand ball, which is like a prom for the special needs kids," Wojciechowski said. "And one of the star football players was there, dancing with a person in a wheelchair. There are just connections that you would never guess in a millions years; as people become aware that autism isn't scary and other special needs are not scary. It's wonderful. I love it."
Wojciechowski has been a member of the organization since her freshman year. She added that what she enjoys most about attending Flower Mound High School is the school itself.
"I am a huge advocate for the education system," Wojciechowski said. "I want to be a teacher. I love everything about school. I love the administration, I love the teachers, I love the students, I love how the classroom works. I just love school."
It should come as no surprise that the Flower Mound teen would like to teach special education.
Wojciechowski carries a 3.7 grade point average and plans to attend the University of North Texas in the fall.
Wojciechowski's Favorites:
Favorite Subject: English
Person Who Most Inspires Me: Jennifer Beasley
Favorite Food: Ice Cream
Favorite Movie: The Great Gatsby
Favorite TV Show: Friends
Last Book Read: Tuesdays with Morrie
Favorite Musical Group or Performer: The Beatles