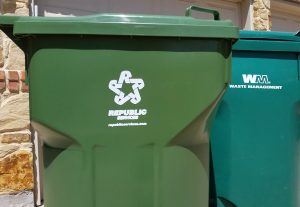 Flower Mound's Town Council selected previous solid waste and recycling provider Republic Services as the town's prospective provider beginning Oct. 1 through Sept. 30, 2021.
The May 2 council meeting was the first of the mandatory two readings during regular council meetings required to confirm the five-year contract. This means that at the May 16 meeting, the next regular council meeting, the current council will open the meeting, conduct the second reading and, hopefully, award the contract to Republic Services; before turning over the council reins to the new council members following the May 7 election.
If approved, the move from Waste Management to Republic would be the second such switch this year by a local municipality. Lantana officials made the change in February.
"The residential rates are most important and service is more important," said Town Manager Jimmy Stathatos, when Mayor Pro Tem Steve Dixon asked for his opinion.
Dixon had a quandary trying to make prices and services match to compare the information from two of the contract bidders—Community Waste Disposal (CWD) and Republic.
"I'm trying to get apples to match with apples, but there are oranges," said Dixon.
The residential prices were clear and comparable, but the commercial and industrial prices were not; costs for fuel recovery fees and environmental [State regulated landfill] fees, plus costs per ton of additional load weight, made trying to get all apples nearly impossible in the time provided.
In addition, residential bulk and brush capacity; green-waste collection timelines; landfill access and location options; and, price comparison was like adding a kumquat to the apples and oranges.
The current provider, Waste Management, had also placed a bid with the town, but was the highest in price, had a history of service issues and made a more than $17,000 overcharge to the town for recycling.
The town's bid request was the result of Waste Management's Oct. 5, 2015 notice of an almost double residential price increase for the next five-year contract. Its contract expires on Sept. 30, 2016.
Council members Bryan Webb, Kevin Bryant and Itamar Gelbman all agreed with Dixon that making a well-informed decision was as "clear as mud," without having the ability to make a true comparison.
"I don't like to watch sausage being made," said Dixon, moving from apples and oranges. "I just remember that when we had a major weather event some years ago and there was all kinds of bulk stuff and brush, Republic responded beyond any expectations I had. They brought in people for all over from I don't even know where. So, it's not just price; it's reliability and service."
Mayor Tom Hayden agreed with him.
In the end, extending a possible five-year contract for solid waste and recycling service to Republic Services passed the first reading with unanimous council approval.