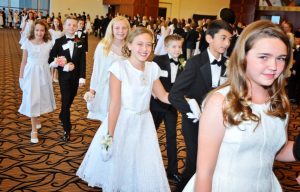 "There are few social programs available today," say Jayne Smith and Lisa Leymeister, partner-directors of a local franchise of the National League of Junior Cotillions (NLJC), "that can claim a positive impact on the nation's children like a cotillion."
A what?
The cotillion was a group dance popular in France and England in the 1700's and 1800's.  Gracious ladies and dashing gentlemen gathered at romantic country estates to socialize by "country dancing."  Four couples formed a square then executed geometric figures accompanied by march tempo music. 1-2-3, 1-2-3.
The idea of grace and dash captivated Americans who had no aristocrat class to admire. Moneyed parents formed cotillion groups that hired dancing and etiquette instructors to teach the next generation how ladies and gentlemen comported themselves in public.  During the social "season" such people of means displayed their exquisite manners at formal dinners and balls.
During the 1960s, among other things America's college-aged youth rebelled against were courtesy and social poise. That upheaval resulted in what one wag called, "The triumph of slob."
Mrs. Smith points her finger at Title IX federal legislation. The law aimed to equalize university sports funding had the unintended consequence of "…turning gentlemen and ladies into socially indistinguishable males and females. Traditional gentlemen take care of the ladies in their company," she said, "and traditional ladies are politely demure."
Happily, the cotillion idea weathered the decade's cultural storm. In fact, today, NLJC's instruction in proper grooming, dress, etiquette, and dancing is alive and well in 30 of the 50 states. In Texas alone the organization has 21 chapters, and a new one is coming to Lantana this fall.
"I bumped into cotillion many years ago in Valparaiso, Indiana," Mrs. Smith, a Texan by birth and upbringing, and a TCU graduate, said. Mrs. Leymeister, a Lufkin native, lived in Valparaiso during the same years. Their children attended cotillion there. Mrs. Smith had the opportunity to acquire a NLJC franchise, and upon returning to Texas 18 years later, discovered her old friend from Indiana had also moved home. They joined forces as directors of the cotillion.
"We have successful chapters in Southlake and Flower Mound/Lewisville," Mrs. Leymeister said, "Our average annual enrollment is 450 children from all over the Metroplex."
The growing groups meet once a month on Sunday afternoons from September through February: 6th graders from 1-2:30 p.m., and 7th and 8th graders from 3-4:30 p.m.
"Besides the two of us, our staff includes parent chaperones, and high school-aged assistants with two years of cotillion experience," Mrs Smith said. "They are our eyes and ears. Dads are popular chaperones."
The new Lantana Chapter will meet at the Lantana Golf Club. The seasonal fee per student ranges from $325 to $375 depending on age. Maximum class size is 60, ideally with equal numbers of boys and girls. Interestingly, more boys than girls often register. Each cotillion accommodates only two groups per season, "So we have waiting lists."
Junior Cotillion instructs children in intermediate and middle school grades 6 through 8. The curriculum consists of five classes of etiquette instruction and practice then light refreshments followed by ballroom dancing. The children learn the foxtrot, waltz, beach shag (slower swing dancing), and in the second year the Texas Two-Step, taught by the directors.
Is there a difference between a cotillion and a school dance? "Night and day," Mrs. Smith said, "There is no wandering around, and no wallflowers or hanging around with buddies."
You might be surprised to learn the dance music is current and familiar. The choice determined by tempo. "The national organization screens for acceptable lyrics then we screen it again," she added.
Each instructional year ends with the Spring Ball at the Texas Motor Speedway Grand Ballroom in February.
"It's a fabulous facility," Mrs. Leymeister said. "The ball is a black tie event. The boys wear tuxedos, and the girls come out in semi-formal (knee length) gowns. The younger girls dress in colors while the older girls wear black or black-and-white gowns. All the ladies wear white gloves."
Etiquette booklets that come to every class stay home from the ball, and children do not attend as couples.
"Ladies and gentlemen these ages socialize with everyone at the ball," the partners emphasized. Parents attend for the last hour to observe and dance with their children. If Mom and Dad need a little dance instruction they may come to the Valentine's Dance, and learn the basic waltz.
"Cotillion's goal," Mrs. Smith said, "is to teach good behavior between peers, without texting." She mimicked punching a phone keypad. "The rules of face-to-face conversation are different from electronic ones. We teach the children how to start a polite conversation, and how to make introductions, how to shake hands, table manners, telephone and electronic etiquette, interview skills, wedding and party etiquette, thank you notes, business etiquette, RSVP etiquette, and proper interaction between ladies and gentlemen."
The 7th and 8th grade program includes a three hour, five-course, instructional formal dinner at the Marriott Courtyard in Grapevine. Dress is class attire: gentlemen in coats and ties, ladies in conservative dresses. No athletic shoes or flip flops allowed.
"Incidentally, we teach everyone proper tie knotting." She told about the time she had a son who needed help with a tie. "Moms need to know how to handle a man's tie too."
Cotillion provides a safe, non-judgmental environment in which young people learn and practice good behaviors. "We see dramatic boosts of self-confidence. Graduates do well in college and job interviews. First impressions are important."
Amanda DiMaio, a former cotillion member wrote, "I had no idea what to expect…I didn't think I was going to enjoy myself or learn anything important…about halfway through the year, I started to change my mind…I don't feel nervous when I shake hands or talk with adults…I even know what to do when I dine at fancy restaurants…my shyness has turned into confidence…I would have missed out on so much…if I had not taken the class."
If all this sounds good, and you'd like to know more, Mrs. Smith and Mrs. Leymeister will host an informational meeting for parents on Wednesday, May 5, from 4 to 7 p.m. at the Lantana Golf Club. They may be reached at [email protected] and [email protected].  Look up the organization online here.