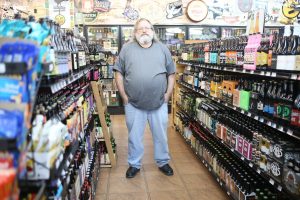 By Adam Schrader
You may have driven by or filled up your car many times at Whip In, the non-descript gas station and convenience store at 2240 Morriss Rd. in Flower Mound, but don't let the tired-looking façade fool you.
Joseph Hendrix has turned the convenience store into a regionally-prominent craft beer emporium.
Hendrix started as a clerk while attending college in 2005. He decided to leave school and turn his clerkship into a full-time job and became general manager in April 2006.
Hendrix said that he's "not really a beer-drinker," but wanted to make money for the store like any good manager.
"It seemed like beer was the way to go and I didn't plan on making a beer store," he said. "I just thought I'd bring in more craft and imported beers and it just never stopped."
Whip In now carries almost 900 different beers and more than 20 ciders, which are both more than 20-times the variety offered at normal gas stations.
"We also have the biggest mead collection I've ever seen, since we offer 20 or more," he said. "But that doesn't say much, since most stores don't even have one."
New beers arrive every week and now occupy most of the sales floor.
"I ran out of space a long time ago so I have to take out stuff that doesn't sell," he said. "We have about half the candy now than when I started, and about a tenth of the grocery and general merchandise."
Hendrix said that alcohol sales consistently contribute more than 50-percent of the store's revenue and overall performance has doubled since he introduced craft beer.
One recent Friday, Whip In sold $2,500 in alcohol. The store sold $534,638 in alcohol last year, compared to $202,980 in 2006.
Hendrix said the process of transforming the convenience store into a craft beer store took place over many years. When he took over, he decided to analyze what products were really selling and beer seemed to be flowing off the shelves.
Hendrix realized Whip In didn't need two cooler doors of low-end beers, like Keystone and Coors, so he partnered with more distributors, asking for unique beers. The selection expanded a few beers at a time. Customers didn't mind the high prices; and, the more beer he had, the better sales were.
Most days, Whip In sells more Texas beer than anything else, so Hendrix tries to focus on selling local beers.
"I don't keep anything around for variety or expectations," he said. "I'd just bring it back when that beer is requested enough or popular again. I tell people– if someone is a regular customer and I'm going to stop offering a beer– if they agree they will buy a beer often and regularly enough, I'll keep it just for them and maybe someone else will buy it, too."
Hendrix said that beer sales really started thriving after Texas state law changed allowing breweries to self-distribute their beers.
"That makes it easier for breweries and can provide more options for us," he said. "A big distributor might not want to pick-up what 'little' beers they have. So, they just drop it off to me."
But not much else has changed besides sales growth and some changing trends in the industry, Hendrix added.
Last year, Hendrix had a "whole lot of self-distributors" but now, he has more small distributors providing him with beer.
"That's a good sign for craft beer in North Texas," he said. "That means the breweries are growing and becoming more popular, which adds stability to my business as well. If a customer becomes loyal to a particular beer or brewery and we can't offer the beer because the business failed, we may lose that customer."
Other trends Hendrix has noticed are that sours are trending and single beers, like 20-ounce bombers, were hot sellers for a long time, but that has slowed. Now, Hendrix is adding six- and four-packs back into the coolers.
Hendrix added that he's glad the owner of the company, which operates a chain of Whip In stores, gave him the leeway to do things differently than his other stores.
"He lets managers cater to the location they're in, unlike big-box gas stations," he said. "One manager in Mesquite also tried to bring in craft beer when the city went 'wet,' but the store was too small to accommodate such things."
Hendrix, who said he doesn't actually like beer that much, likes to sample them. So, he tried to bring in brewers and distributors to hold beer tastings on Friday nights from 5 to 8 p.m. "because that's the most concentrated time of the week for business."
"Honestly, most of my employees are too young to drink, but the ones that are [old enough] I encourage them to taste them at the store, too, so they know more about the beers and can help make sales," he said.
The popularity of craft beer at Whip In remains steady, despite the fact that area grocery and liquor stores are now stocking them.
Hendrix said that somewhere along the way he realized how many parents were bringing children into the store as they shopped for craft beer. So, he started to offer two coolers of craft sodas for the kids.
"We've grown our selection of the specialty sodas some, too, but we're limited on space," he said. "We got some premium 'zombie' soda in October– Dead World. It's based on a comic book that's been out since the '80s. It still sells [now], but sold a lot better at Halloween."