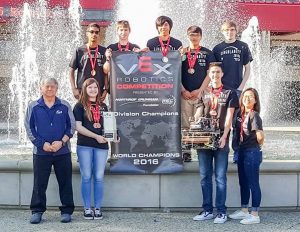 The robotics program at Flower Mound High School (FMHS) has been in existence since the campus opened its doors in 1999. Back then, the program began with two students and now has an impressive 80 and has appeared in nationals every year.

"We are an established program," FMHS technology teacher and robotics team coach Ralph Szydlik said. "It's the students who have made our program successful. They just want to compete in the technology world and learn more about engineering, etc."

The robotics team is an extracurricular club available to any FMHS student interested in participating.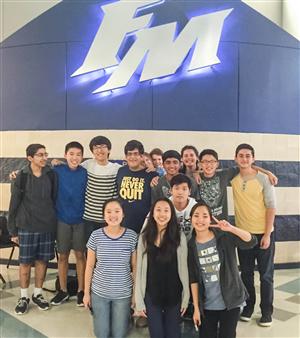 "By the time I graduate high school, I hope that I can walk away from FMHS robotics and be able to apply the many skills I learned from the club to my future," sophomore Catherine Tang said. "Being in the club has not only taught me about engineering and other STEM aspects, but communication, leadership and collaboration skills, as well."


To create a robot, students first design it via CAD (Computer-Aided Design). After designs are complete and teams are sure it will work, students build and begin to code. When the robot and coding are complete, students test it by changing and modifying the robot along the way. During the peak of robotics season, students can be spotted spending around 15 hours per week testing and practicing with their robots.

This year the program has catapulted its tradition of excellence to another level through its participation in VEX Robotics, FIRST, FIRST UIL, Technology Student Association (TSA) and USA to India World competitions.

For the 2015-2016 school year, FMHS robotics teams have accumulated a significant trophy collection.
In the VEX Robotics competition, six teams advanced to state and two competed in the 2016 VEX Worlds – VEX Robotics Competition, where one team claimed first place and the other sixth place — a prestigious competition with more than 7,200 active teams around the world. In addition, Flower Mound 9th Grade Campus student Henry Liu was named Programming Skills World Champion.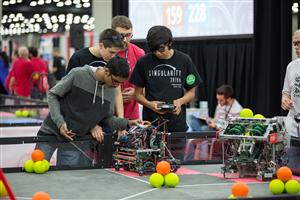 Fifty-three students advanced to the TSA State competition, where FMHS took second place; second in music production; third in website design; FMHS junior Aahlad Madireddy claimed the high-point award for most points across the state; and five teams qualified for TSA's national competition.
In the FIRST Robotics competition, FMHS' alliance took fourth place in Dallas Regionals and the team was invited to compete in the FIRST World Championship.
In the USA to India World Challenge, FMHS took 3rd place.
Through all these competitions, participating students have limitless scholarship opportunities. VEX Robotics offers $4.5 million in scholarships and TSA offers a staggering $25 million. Scholarships are still coming in for FMHS robotics team participants, but the campus expects it to be a substantial collective sum.
"Unlike sporting and UIL events, there are several colleges and universities that aggressively recruit our students at these competitions," Szydlik said. "At VEX, there were 17 and at FIRST there were 27 colleges and universities recruiting. I do not see this anywhere else but robot events."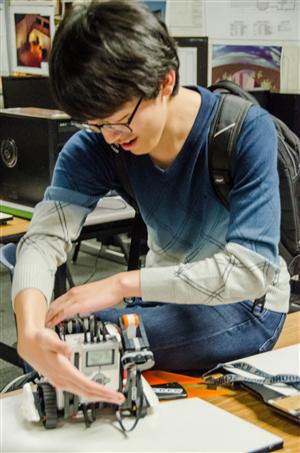 And the program's success will only continue to thrive, as McKamy Middle School — a campus zoned to attend FMHS — has an impressive robotics program with more than 100 participants.
"As a club, we keep building up," FMHS junior Keven Li said. "Our main priority for students is to make it easier to be involved in robotics. It's not that well known and we are trying to make a strong foundation for many years to come."
Tang added: "Hopefully, the things I have learned and the memories I have created will stay with me throughout my life, and robotics will be something that I look fondly back upon as an adult."
Stay tuned for an opportunity to watch a replay of FMHS robotics team in action at the 2016 VEX Worlds – VEX Robotics Competition set to air on ESPN2 Wednesday, July 20 at 8 p.m.
Learn more about FMHS robotics
here
.