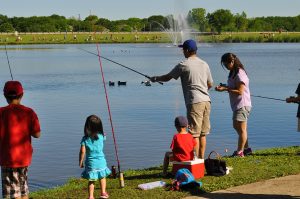 The Town of Flower Mound is seeking input from residents regarding future community green spaces and recreational programming during two upcoming public meetings, as part of the important Parks and Recreation Master Planning process.
By incorporating feedback from the community, the Parks and Recreation Master Plan will serve as a roadmap for future parks and recreation amenities, town officials said.
Residents may attend either the public meeting on Monday, May 9, at the Flower Mound Senior Center, 2701 West Windsor Dr. or on Tuesday, May 10, at the Community Activity Center, 1200 Gerault Rd. Both meetings start at 6 p.m.
In addition to the public meetings, some residents will receive a survey through the mail to randomly-selected households. Both the survey and public meetings will include questions to assess program and facility needs, and review demographic data, trends, and usage statistics.
"Now is the perfect opportunity for residents to tell our Parks and Recreation staff your vision for the future of our park system and recreational programming," said Flower Mound Mayor Tom Hayden.
"Are you happy with the elements of our parks? What is missing from our trail system or our parks? Would you like for us to incorporate art in our parks? What programs do you want us to offer?  What can we do to make the Town's Community Activity Center (CAC) the best?  These are the questions we'd love to hear your answers to in these public meetings and survey.  Help us make our Town an even better place to enjoy."
The meetings and the survey will be conducted by PROS Consulting, Inc., a specialized management consulting firm comprised of former Parks and Recreation managers who serve public parks and recreation agencies throughout the U.S. and international community.
The project team will utilize resident input to identify the community's prevailing needs, interests, values, and priorities related to parks, recreation, and open space for the next 5-10 years.
"We greatly appreciate residents taking time out of their busy schedules to help us shape the future of Flower Mound's Parks and Recreation amenities," said Gary Sims, Executive Director of Community Services. "Resident input is so invaluable in the Master Plan process and assists us with prioritizing projects and allocating tax dollars to the most desirable services. We look forward to hearing the community's ideas."