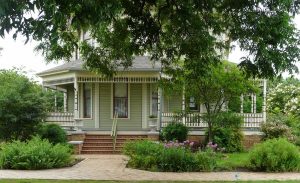 Area gardeners will be donning sun hats, grabbing cameras and heading to the 2016 Denton County Master Gardener Association spring garden tour from 9 a.m. until 4 p.m.on Saturday, May 7.
"Suburban Surprises" is the theme of this year's tour, which features five private residential and two public gardens in southern Denton County.
"The Art-Full Acre" at 5116 Heather Court, Flower Mound, 75022, is a garden gallery where art and nature merge, demonstrating how art interspersed among plants can express an owner's personality. Multiple vignettes, including an area dedicated to the gardener's late mother, will delight visitors as they meander among eclectic art.
"Natives in the Suburbs"at 2201 Morriss Court, Flower Mound, 75028, showcases native Texas plants,which have helped the homeowners reduce both costs and maintenance of their yard. This Texas landscape supports local wildlife, such as birds and lizards, while insects of all kinds contribute to nature's upkeep of the garden.
"The Other Side of the Fence" at 417 Doubletree Drive, Highland Village, 75077, complements a 29-year old home and has seen numerous changes over time. Removal of a backyard tree allowed for construction of an outdoor kitchen. Perennials and a patio for container gardening enhance the family's enjoyment of their yard.
"Pigs Fly Ranch' at 12050 Meadow Lake, Argyle 76226 (Copper Canyon), is a 4.5-acre hobby farm growing veggies, fruits, annuals, perennials, native trees and shrubs. The gardens are informal, and the owners, who advocate water conversation, leave the lawn to nature. The property's rain harvesting system can store more than 6,000 gallons of
water.
"The Water Bender" at 3424 Serendipity Hills Trail, Corinth, 76210, demonstrates how to manage fast-moving water on the property. A series of drainage canals has been constructed to travel around raised beds, which were created out of
the excavated soil and filled with plants that attract pollinators. A man-made pond provides a home for bullfrogs and a water supply for visiting creatures.
The tour's two public gardens are the 13-acre Flower Mound on Flower Mound Road just east of Long Prairie and the Israel Prayer Garden at Global Spheres Center, 7801 S. Stemmons Freeway (I-35E), Corinth, 76210.
Tour tickets are $10 each and available from Master Gardeners or from the Denton County Master Gardener website at www.dcmga.com. Tickets may be purchased at any of the homes on tour day. Admission to a single garden is $5 at the gate.There is no charge for children under 12, and admission to either public garden is free.
Master Gardeners will be on-site at each location to answer questions.
The garden tour is the Association's major fundraising event for the year. All funds collected are used to fund educational horticultural programs for Denton County residents.