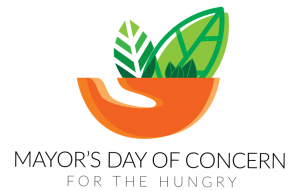 Denton County businesses, churches, towns, and charitable organizations are participating in Denton County Mayor's Day of Concern's annual food drive this week.
According to the Texas Hunger Initiative, over 104,000 Denton County residents do not know where their next meal will come from. The goal of the Mayor's Day of Concern is to not only meet the immediate needs of the hungry but also raise awareness that hunger is a problem here in Denton County.
During last year's drive, participants collected 30,000 pounds of food. This year, all involved are hoping to beat last year's mark.
Drives are held by the various local grocery stores, businesses and churches that are willing to step up and fight the issue of hunger in North Texas.
The most needed food items include peanut butter, canned vegetables, canned meats, dry beans and rice, boxed dinners, and cereal. Monetary donations will also be accepted – just $1.50 is equivalent to one pound of food and $1 provides seven meals.
Both food and monetary donations collected from April 18-22 at the following locations will be distributed equally among participating nonprofits that serve the hungry in Denton County. These organizations include Lewisville-based Christian Community Action; Denton Community Food Center; Denton County Friends of the Family; Denton County MHMR; First Refuge Ministries; Health Services of North Texas; Our Daily Bread; the Salvation Army; SPAN Meals on Wheels; The Shepherd's Hand; TWU, UNT, and NCTC food pantries; and Vision Ministries.
Advanced Medical, 2849 Morriss Rd., Flower Mound
Flower Mound Library, 3030 Broadmoor
Flower Mound Municipal Court Bldg., 4150 Kirkpatrick
Flower Mound Town Hall, 2121 Cross Timbers
Kroger, 2240 Justin Rd., Highland Village
Kroger, 2709 Cross Timbers Rd., Flower Mound
Live Oak Church, 1011 Surrey Ln. #300, Flower Mound
Market Street, 3800 Long Prairie Rd., Flower Mound
OrthoTexas, 4951 Long Prairie Rd.  #100, Flower Mound
PointBank, 4920 Long Prairie Rd., Flower Mound
PointBank, 915 W. Main St., Lewisville
Stryker, 1410 Lakeside Pkwy., Flower Mound