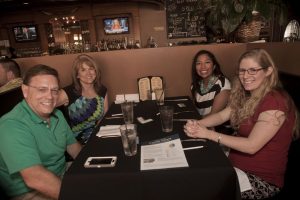 The Argyle Chamber of Commerce at their recent board meeting acknowledged the Chamber's growing impact on the wider community by voting to change their name to the "Greater Argyle Chamber of Commerce."
The Chamber has rebuilt in the past 2 ½ years and now boasts their largest membership ever, while still maintaining the intimacy and flavor of a very small town Chamber.  Members come from all over Denton County to enjoy the unique combination of networking and community support that the current Board of Directors has developed.
Driven by the underlying philosophy of strengthening our community through giving back to those less fortunate, the Chamber has successfully presented three major fundraising events each year for the past two years:  a golf tournament, a tasting event, and a Christmas celebration.
In 2016, the Greater Argyle Women's Leadership Network was founded, and this summer will present their first ever one-day workshop for women on July 27, led by certified Strength Finder Coach Cyndy Mitchell.
All fundraisers are designed to benefit the Chamber's non-profit members, which include United Way, Youth and Family Counseling, Christian Community Action, Ranch Hand Rescue, Born 2 Be Therapeutic Equine Therapy, and other community service organizations.  Last years' events netted over $16,000 in donations.
To support economic growth through connections, the Chamber's regular schedule includes three networking events each month (except July) to accommodate varying professional schedules–a breakfast, a lunch, and a mixer.  These events are small enough to allow for strong connections between businesses while fostering an atmosphere of collegiality that attracts visitors to every event.
For more information about the Greater Argyle Chamber of Commerce or to see a schedule of upcoming events, go to www.argylechamber.org, email chambe[email protected], or call the Chamber office at 940-464-9990.