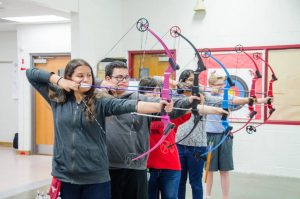 Lamar Middle School's (LMS) archery team knows firsthand the benefits of hard work and determination, as they recently claimed the school's fifth state championship title in the Texas National Archery in Schools Program (TNASP) State Tournament. An impressive accomplishment considering the team began competing in the program in 2009.
"I am so proud of the persistence, work ethic, discipline and teamwork our archers demonstrated to earn a fifth state championship for Lamar," LMS Principal Rebecca Clark said. "These kids work so hard to practice and perfect their individual skills, while also pushing each other to greater team success. With Coach Bavousett's experience and expertise, as well as the continued commitment of students and their parents, the LMS archery team has truly built a legacy program."
The Flower Mound team also claimed the national championship title in 2013 and took second place in the world championship tournament the same year.
According to Coach Bavousett, discipline is a huge factor in the team's success.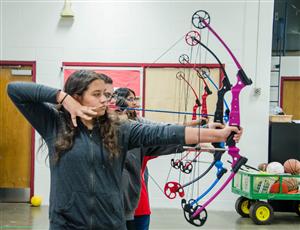 "If you look at the dynamics of the team, you will find the correlation between band and archery members," Bavousett said. "Both require the same skills and mindset. You can't be in band if you cause problems and are not coachable. Same applies in archery. I run a very rigid practice. There is no horseplay and I will ask you to leave the range if you can't behave yourself. Because of the safety issues, you'd think I was a drill sergeant in the Marines."
LMS archers are proud of the team's recent success.
"It's pretty awesome to know we are the best in the state and we are undefeated," eighth grader  Evan Dreger said.
Fellow archer Chersey Tavios added: "I'm proud of being on the archery team and knowing that we've contributed to being one of the best teams."
Although archery is not a University Interscholastic League (UIL) sport in Texas, it still is a highly-revered Olympic sport.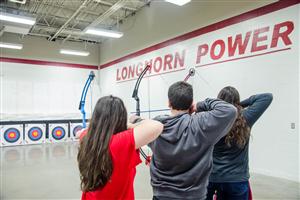 "There is no other sport in high school that pays out this kind of money to compete," Bavousett said. "And since it is not an UIL sport, high school teams get to shoot for scholarship money. This year's purse in the high-school division is $190,000. Middle school teams get to play for trophies and bragging rights."
But middle school archers take valuable life skills away from the experience.
"I've learned to become more positive," archer Colinda Post Davis said. "If you are constantly bringing yourself down, it is hard to improve. So, I've learned to be more optimistic about things."
Archer Henry Hamre added: "It has helped me to grow more patient. When I first joined the team, coach told me to take a deep breath, calm down and shoot slower. Once I did that, I improved."
And any LMS student can join this state championship team.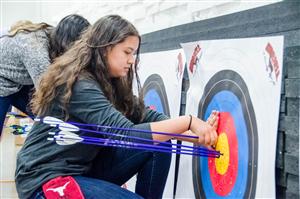 "If you are interested, go for it," Post Davis said. "Even if you are not the best archer at first, you will get better with practice."
Dreger added: "Don't be afraid to come and ask about archery or try to join. It can be a scary thought of joining something like this, but if you just do it, next thing you know you are a part of a state championship team."
The archery team at LMS is a club and participating students/families are responsible for expenses, including purchasing their own equipment.

"The little train theme is used a lot," Bavousett said. "If you think you can, you can and
you will. Lamar has the most individual state champions of any school in Texas. Every one of those champions never shot a bow before joining the team. It's amazing to watch them grow and improve. It brings tears of joy to your eyes."
 In addition to LMS' archery success, fellow Lewisville ISD archery team from Arbor Creek Middle School claimed second place and the Marcus High School archery team took third place in the TNASP State Tournament.
Up next? These teams are aiming for success in the National Archery in Schools Program National tournament in Louisville, Ky. May 12-14.
For students who are interested in joining Lamar's archery team, Coach Bavousett encourages parents to contact him via email [email protected].