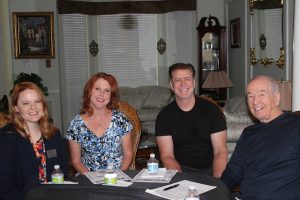 Recently, I came across an alarming statistic: One in four students in North Texas is at risk of dropping out of school. With the help of Communities in Schools of North Texas (CISNT), part of the nation's largest dropout prevention network, many will beat the odds this year and stay in school.
CISNT, a non-profit administered through guidelines by the Texas Education Agency, is part of an innovative national approach established to combat the dropout problem.
The mission of CISNT is to surround students with a community of support, empowering them to stay in school and achieve in life. In order to achieve their mission CISNT will serve almost 5,000 at-risk youth throughout the academic year.
CISNT operates two distinct dropout prevention programs:
Case Management Dropout Prevention programs (K-12th grades),
21st Century Community Learning Center after school programs (2nd-12th grades).
To explain more about CISNT and to announce a fabulous evening with a gourmet dinner, dancing and mind-blowing entertainment, I invited some guests for a video interview, which accompanies this article.
My guests were Kathy Duke, Ann Pape and David Magee. Kathy, a Flower Mound resident, is a former elected official on the Lewisville ISD Board of Trustees. Ann Pape (pronounced "Poppy") is a resident of Lewisville and the Development Director for Communities in School of North Texas. David Magee, a Canyon Oaks resident, entertains at many events in North Texas and across the country.
For several years, Dave has been building upon an entertainment career which, among many other successes, has made him the headliner for "The World Game Show, starring David Magee" at Winstar World Casino in Oklahoma. Drawing crowds of 3000 or more, Dave blends his "mentalist" routine with huge cash and other prizes won by audience members randomly selected to join him on stage.
The Masquerade Gala, coming up on May 21st at the Hilton Garden Inn in Lewisville, will feature Dave, known as "Master of the Mind" as entertainer for the evening.
For more info, click on www.cisnt.org. You can also contact them at [email protected].
Bob Weir is a long-time Flower Mound resident and former local newspaper editor.