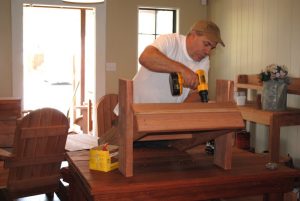 California's loss quickly is becoming Texas' gain ever since the opening of The Redwood Patio in the middle of Old Town Keller last October.
The small, red building– that once was a church school house– now features a showroom full of the finest handmade outdoor furniture made of redwood; something found in abundance in the Golden State.
Everything on display is personally built by California native and soon-to-be Texan Cal Pierce, 51, while daughter Sabrina Pierce-Contreras operates the store, marketing, advertising and website.
"We had talked of moving to Texas for a number of years," said Pierce. "Sabrina's husband, Nico, works for In-and-Out Burger and saw the opportunity to come here and advance and get his own store, so they jumped on the chance to move here.
"After she moved here she said: 'Dad, we should open up a showroom in Texas. Nobody else has this.'"
A masonry contractor for 24-years, Cal made his first piece of furniture about 20-years ago originally as a hobby. When he started taking his pieces to area shows, they immediately became a hit, eventually prompting his daughter to urge him to open their own place.
That was in 2009 in Aptos, a town of about 10,000 people east of Santa Cruz in central California. The store did very well, until it closed in 2014 when Sabrina, 27, and family moved into the Canyon Falls area of Flower Mound.
Cal drives periodically to California where he first cuts the trees by hand into specific sizes, picks up the loads with a big tractor, then drives the lumber to his current woodshop– a barn on his father's property. After running the wood through a planer, he pre-cuts everything needed to fill orders, loads his trailer and truck, then he and wife Zaharah bring everything to Texas, where he puts the furniture together.
He's in the process of selling his California property to relocate in Argyle, where he'll establish a new woodshop to complete the process. He has enough wood stockpiled so he won't have to cut down any more trees for 10- to 15-years.
The Redwood Patio specializes in Adirondack chairs and rockers, love seats, picnic sets, planters, and tables. While Pierce makes plenty of his standard pieces in stock, he will also custom-make anything else.
Apparently, North Texans can't get enough of the furniture as Redwood Patio enjoyed its best February and March ever, better than any comparable month in California.
"We've often thought this is too much for the two of us, but we make it work," said Pierce-Contreras.