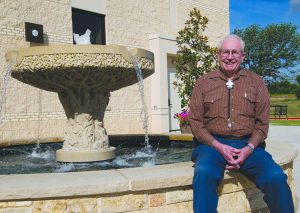 Longtime Argyle resident James P "Jim" Heath, 89 of Denton, passed away on Tuesday morning, April 5th. Jim was born on November 22, 1926 at home in Argyle to John Pennington and Grace (McMakin) Heath.
He married the love of his life, Norma Simpson in Houston, TX on August 15, 1947.
Jim graduated from Texas A & M and was an "Aggie" to the end. He had a career in the Army and retired as a Lt. Colonel in the Reserves. He was also a Rural Route Mail Carrier in Argyle for 32 years, retiring in 1985.
Jim was very active in Boy Scouts holding several volunteer positions and teaching courses at Philmont Scout Ranch in Cimarron, NM. He was a member of Optimist International and helped send numerous High School aged boys to Boys State. He was also a member of the American Legion. He spent many years hosting local, regional, state and national Americanism Oratorical contests which provided scholarships to deserving students. He was a life-long member of Argyle United Methodist Church.
He is survived by his sons, Jimmy, and wife, Martha, of Havana, FL., John, and wife, Nellyne, of Denton, and Sister-in-Law, Audrey Simpson of Brenham. He has five grandchildren; Patrick (Melodie), Joey, Jeni, Lisa Knight (Joe) and Jeffrey. He is also blessed with three great-grandchildren.
Memorials may be made to American Legion, the American Lung Association, or Argyle United Methodist Church. . On line condolences may be left at www.mulkeymasondenton.com.
The following article about Jim Heath was published in the July 2009 issue of The Cross Timbers Gazette:
Retired postman still delivers community service
by John LaVine, Contributing Writer
When Jim Heath was a boy in Argyle, his mailman was Sam Davis, the first rural mail carrier in town.  "Mr. Sam was a letter carrier for 30 or 40 years.  My goal was to be Mr. Sam.  I got to do it."
Although Mr. Heath, 82-years young, clocked over one-million accident free miles delivering mail throughout southern Denton County, his international service to humanity nearly obscures it.  Many of us live on streets that didn't even exist 50 years ago, but Mr. Heath is a fifth generation resident of Denton county.  His great grandmother was one of the Holford's daughters of Holford's Prairie.  His great grandfather was Alec McMakin, as in McMakin Road.
So, when Mr. Heath started delivering mail, on December 28, 1953, one could say that he knew the territory.  In today's vernacular, he had "street cred" before they were even paved.  As aforementioned, his path to that position was a long, circuitous one.
He met his wife, Norma, while attending Texas A&M.  After he graduated, in 1948, he stayed in the Army Reserves.  He signed up for Officers Training and wound up on Korea's infamous 38th Parallel.
"I was never so cold in my life," he shudders.  "Asthma put me in the hospital; I had gotten so much cold air in my lungs.  After the treaty was signed, I went to Japan where I represented all of our American service branches to the Japanese governor."
After returning to Texas, he traded uniforms: military for civil service, although he remained in the Army Reserves until 1975.
"There were 26 applicants for the postal job.  I made it to the final three.  I guess you could say I had better politics going for me.  One of the other two guys had never voted.  The other one was married to a woman from New England.  One time, when she went up there to visit, he got in a car wreck…with the wrong lady in his car!"
Well, some things never change.  With luck, neither losing candidate waited around for Mr. Heath to abdicate his Jeep Scout seat, as he reigned over the Route 1 mail until 1985.
"In 1953," Mr. Heath explains, "it only took from 8:30 AM until 12:30 PM to deliver the mail to the 187 families who lived between Copper Canyon and Fraught Roads, and RR Ranch up to just north of Hickory Creek.  Over 4,700 families now live in that area."
Mr. Heath didn't just deliver the mail, he befriended his recipients.  He thought outside the mailbox.
"I knew my people so well.  One time, I got a letter that was addressed only to:
Grandma and Grandpa, Argyle, TX.  I saw that the postmark was from Greeley, Colorado and knew who the grandparents were and delivered it."
"I'd get Sam Goren's pension check cashed for him.  When Mrs. Elizabeth Laney needed her medicine, I'd get it for her and put it in her mailbox," Mr. Heath reflects.  "When we had ice and snow, I put two packs of cigarettes in June McSween's mailbox."  Talk about your neither rain nor snow slogan!
The route wasn't without its occasional problems.  "One day, I leaned out the window of my right-hand-drive Scout to deliver a package, and the woman's black Irish setter sunk four fangs into my shoulder.  He tore the sleeve off my shirt.  No lion ever had a mouth that big," Mr. Heath laughs.
"I had Billy Graham's daughter on my route, as well as Jimmy Carter's sister.  Her son, Chip Carter, would visit and I enjoyed aggravating the tar out of him," Mr. Heath chuckles, still enjoying life.
He laments how some things have changed.  "You got to get close to the people back then.  I don't see the dedication – the love of the job anymore.  They don't let you do it any longer."
Both during his life with the postal service and, even moreso since he retired in 1975, Mr. Heath has served the world.  Since 1957, he's been on the Boy Scouts Council.  In 1995, the BSA sent him to Israel, England, and even Siberia.
"Russia had scouting," Mr. Heath expounds, "but Lenin abolished it.  He replaced it with the Young Pioneers.  But in 1991, people wanted scouting back."
He has been serving as State Chairman of the Oratorical Contest of the American Legion of Texas since 1980.  In 2006, he was picked as Legionnaire of the Year.
Personally, Mr. Heath has lived a long and rich life.  "My older son, James Paul, is retired from the military, after spending 15 years in the Army and 20 in the National Guard, and lives in Georgia.  My younger one, John, maintains all of the water valves for the city of Denton.  I have five grandchildren and one great grandchild.  Unfortunately, my wife died from cancer in 1991."
While still very involved in the community and elsewhere, Mr. Heath smiles, "I enjoyed every day on the mail route.  I've had a very full life."
Sam Davis would be very proud.